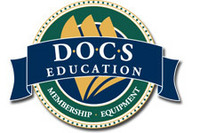 Talk to a Sedation Dentist Day
Seattle, WA (PRWEB) March 13, 2009
The nation's best, most-respected sedation dentists collectively have answered at least 23.5 million questions about their anxiety-free techniques, and plan to spend all day today fielding even more inquiries from patients and fellow dentists.
To cap the first annual Sedation Dentistry Safety Week (SDSW), March 9-13, dentists will be on call throughout the day to discuss this proven, safe, dental technology that allows even squeamish and fearful patients to enjoy comfortable, anxiety-free dental treatments.
"Talk to a Sedation Dentist Day" is hosted by DOCS Education, the nation's leading trainer of oral sedation dentists and their dental teams.
"No question is out of bounds or likely to catch our experts off guard," says Dr. Michael Silverman, national chairman of SDSW and one of the world's foremost sedation dentistry educators. "A core belief of all quality sedation dentists is that asking questions is always better than wondering or doubting."
Dr. Silverman and his colleagues, who first began teaching safe sedation dentistry in 1999, estimate that between the dentists and dental team members they've personally trained and the patients of those oral health practitioners, DOCS Education has collectively fielded at least 23.5 million related questions.
"Some people would say, 'I wish I had a dime for every question I've answered,'" Dr. Silverman muses. "But I've got something better - at least one smile for every question coming from a patient who previously was too fearful to seek proper dental care and too embarrassed to smile."
Dentists who are curious about oral sedation and how they might provide this valuable service to their communities can discuss topics including training courses, equipment, safety, staff integration, medications and upfront investment.
Patients who have heard of the wonderful transformations experienced by friends and relatives can ask how to find a nearby qualified dentist, what to expect, whether treatments are truly anxiety-free, what is the safety record and how much money oral sedation treatments save compared to other dental treatments.
"Although more than 40,000 dental professionals and their staffs offer oral sedation and more than 1.25 million Americans have used it, the vast majority of practices and patients still don't realize all the benefits," says Dr. Silverman. "The reason we are so happy to invite questions is because we are so proud of the answers."
Dentists wishing to get answers to their questions should phone 877-325-3627. Consumers are invited to phone 888-858-7972. Trained sedation dentists will be available live to field calls between the hours of 9:30 a.m. and 5:30 p.m. EDT. Due to the expected large volume of calls, SDSW receptionists may take a message and have an expert sedation dentist return the call as soon as possible.
SDSW is held once a year in March to coincide with the switch to daylight savings time. The week-long event aims to promote safe, comfortable, anxiety-free dentistry, with the emphasis on safety first.
# # #