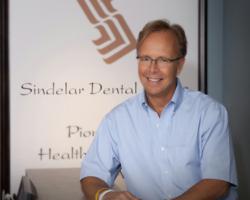 Ditch the drugs. It is now possible to treat many chronic headaches using a simple dental appliance.
St. Louis, MO (PRWEB) October 17, 2012
Dr. Dan Sindelar, current president of the American Academy for Oral Systemic Health (AAOSH), announces treatment of chronic migraines and headaches in his St. Louis dental practice, Sindelar Dental. Using a simple and effective bruxism appliance called an NTI, this small mouth guard prevents the wearer from grinding or clenching his teeth while he sleeps. The result is a nearly immediate cessation of headaches and migraines.
In a recent estimate by the American Headache Society, American businesses lose more than $24 billion annually in direct medical expenditures and lost worker productivity due to headaches and migraines. Studies show as many as 23 million Americans suffer from migraines. Most headache sufferers treat their pain with pain relievers or prescription drugs, but these treatments fail to cure the problem and cause a host of unpleasant side effects on the liver, kidneys and digestive tract.
"I've helped a lot of patients get their lives back without the use of prescription or over-the-counter drugs by treating headaches with a simple bruxism appliance," explains Dr. Dan Sindelar. Bruxism is the grinding and clenching of the teeth—often caused by anxiety, stress, poor diet or poor sleep habits—that strains the muscles in the jaw and can lead to fractured, worn, and broken teeth. "Once we prevent this tension by fitting a simple appliance, the headaches often subside."
Dr. Sindelar uses a dental appliance called an NTI to prevent this nighttime clenching and grinding. The appliance is FDA-approved, the process of fitting one is simple and quick, and the results are often almost immediate.
"Relieving my patients from the pain and annoyance of headaches and migraines has earned me patients and friends for life," says Dr. Sindelar. "So many patients don't realize that the cause of their chronic pain is actually dental related. It's truly been a life-changing step for many patients."
For more information about migraine and headache relief with an NTI, or to schedule an appointment with Dr. Sindelar, visit http://sindelardental.com.
Dentists can learn about implementing oral systemic health services as part of their practice by visiting http://drdansindelar.com.
About Dr. Dan Sindelar
Dr. Sindelar is the current president of the American Academy for Oral Systemic Health (AAOSH). He evangelizes cooperation and communication between the medical and dental fields in light of remarkable new dental treatments. By participating with cardiologists in the prevention of heart attacks, strokes, and diabetes, he earned his preceptorship certification, a sign of the importance that the medical community now places on dental care as an essential component of overall health. Dr. Dan was born and raised in St. Louis, where he has run a private practice, serving the community as one of its leading dentists for more than 30 years. Dan focuses on general advanced cosmetic rehabilitation, gum disease, oral inflammation, comprehensive periodontal management, dental sleep medicine, neuromuscular dentistry, and facial pain and TMJ/TMD therapy.
Media Contact:
Ashley Williams
Sindelar Dental
314-825-5433