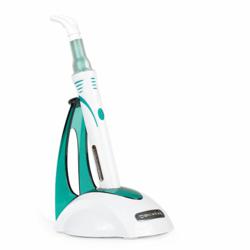 The importance of pain relief to patients means that DentalVibe leverages a substantial business advantage for dentists
Boca Raton, FL (PRWEB) August 02, 2012
BING Innovations, exclusive provider of the DentalVibe® Injection Comfort System, the brand-new revolutionary device that is redefining the dental experience, is pleased to announce that Oral Health Journal, Canada's leading dental journal, is featuring the DentalVibe in its latest issue. The journal highlights how DentalVibe is making truly pain-free injections possible for every patient, children and adults alike, with or without sedation dentistry. .
Oral Health Journal's extensive profile of the DentalVibe product demonstrates the device's expanding international presence. DentalVibe is already in use in dental practices all around the world. The cordless, rechargeable, handheld device delivers soothing and percussive micro-oscillations at the site of injection. Operating on the principles of "The Gate Control Theory of Pain," the vibrations are deployed to reach the sensory area of the brain before the pain does, closing the body's neural "pain gate" so that pain can't pass through.
The article, written by DentalVibe inventor Dr. Steven G. Goldberg D.D.S, explores the irony of the fact that many patients still go home and complain to their families because the thing they remember the most is the injection pain, not the sterling dental work. As Dr. Goldberg points out, painless dental injections have not been available to patients, until now. Root canals, fillings, and extractions are all well-known procedures that can be carried out painlessly, but prior to the DentalVibe; patients still had to endure pain at the injection site for intra-oral injections. Unfortunately for dentists, that pain is likely to be the only thing patients remember.
The importance of pain relief to patients means that DentalVibe leverages a substantial business advantage for dentists. The article addresses the ways clinicians can grow their practice and bring in more patients by marketing themselves as truly pain-free dentists. Because tens of millions of patients avoid oral care due entirely to their fear of pain, DentalVibe's pain-free injections will stand out as one of the most appealing services of any practice.
BING Innovations, exclusive provider of the DentalVibe, is dedicated to marketing the dentists who use their dental equipment. Purchasing DentalVibe gives dentist's access to a brand-new Marketing Support Center, where DentalVibe is expanding its efforts at marketing dentists and educating consumers. The DentalVibe Dentist Locator maximizes exposure for dental offices by allowing patients to find a dentist in their area and access an exclusive, micro-website listing for each practice.
The article, "Stop Hurting Your Patients...Deliver the "WOW" Experience and Watch Your Practice Grow" by Dr. Steven G. Goldberg D.D.S, is featured in the July 2012 edition of Oral Health Journal.
About BING Innovations, LLC
BING Innovations, LLC, established in 2008, is the exclusive provider of the DentalVibe® Injection Comfort System, a revolutionary, patented, and award-winning dental device that uses VibraPulse® technology to eliminate the pain of dental injections. DentalVibe, invented by Steven Goldberg, D.D.S in Boca Raton, FL, is FDA-approved and registered and is proudly assembled in the USA. BING exists to improve patient comfort by developing cutting-edge products for health professionals. To learn more, please call 877-503-VIBE (8423) or visit http://www.DentalVibe.com.
About Oral Health Journal
Oral Health Journal has served the dental industry for more than 100 years. First published in 1911, the magazine began as a small abstract journal but today reaches an audience of more than 10,000 readers, 90% of which are dentists. It is the primary source of business information for dental industry buyers. Oral Health Journal is published by Business Information Group (BIG), Canada's largest magazine and b2b publisher.