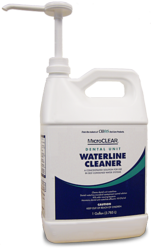 Bacterial Biofilm in dental unit waterlines poses a significant risk to staff and patients.
Scottsdale, AZ (PRWEB) June 28, 2011
A common problem associated with clinical and dental office waterlines is the buildup of bacteria and biofilm that pose a significant risk of infection to dental staff and patients (http://jada.ada.org/content/131/10/1427.full). Bacteria free water used in the mouth during dental procedures is critical according to Jim Ratcliff, CEO of Rowpar. "The mouth is the leading gateway to the body for germ and bacterial attacks. The ability of biofilm organisms to resist efforts at dislodgement or disinfection make effective biofilm control a more complicated process." Rowpar Pharmaceutical's proprietary chlorine dioxide formulation in MicroCLEAR Dental Unit Waterline Cleaner has shown to be effective in reducing bacterial concentrations below the American Dental Associations recommended levels and is now being re-launched after having acquired the newly required EPA registration (all states except CA which is pending).
According to Andy Gritti, Executive Vice President of Rowpar, "The MicroCLEAR waterline cleaner has undergone an almost complete overhaul since its original introduction in 2003. The same great formulation is still there, but upon thorough review by the marketing and production teams the product has made some noteworthy changes in an easier to use and store packaging that created price savings we are passing along to our dental office customers. The result was better packaging, great pricing, and a best in class waterline microbial control solution."
MicroCLEAR Dental Unit Waterline Cleaner is non-staining, non-corrosive, pH balanced, does not affect bond strength and will not harm lines or damage equipment even with continued use. While many offices have used bleach as a low cost method to clean waterlines, bleach has been found to be corrosive to equipment and harmful if swallowed. MicroCLEAR is non-toxic and designed to remain in the waterlines overnight without need to air or water purge at the end of the day. MicroCLEAR does not require mixing and comes with a calibrated pump to reduce waste and save time.
Rowpar Pharmaceuticals manufactures and markets MicroCLEAR through all major dental dealers or may be purchased directly from the company. CloSYS toothpaste, mouth rinse, and breath spray are sold nationally through Walgreens and CVS Pharmacy (after 9.15.11), CloSYS.com, Amazon.com, Drugstore.com and others. For more information about MicroCLEAR and CloSYS visit http://www.ReThinkOralHealthCare.com
###