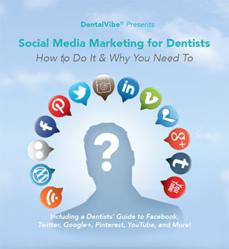 The science of dentistry has been around for ages, but the business of dentistry has to change with the times.
Boca Raton, Florida (PRWEB) July 10, 2012
BING Innovations, exclusive provider of the DentalVibe® Injection Comfort System, the brand-new revolutionary device that is redefining the dental experience, is pleased to announce the publication of "Social Media Marketing for Dentists: How to Do It & Why You Need To," a comprehensive white paper on how and why dentists should be using social media. The white paper succinctly teaches dentists everything they need to know about using social media specifically for dentistry. Dentists will learn exactly how social media can bring in more business for their practice while improving patient relationships. Additionally, the white paper includes a platform-by-platform "Dentist's Guide" for using Facebook, Twitter, LinkedIn, Pinterest, and more than a dozen of the most popular social media sites.
Most dental practices are small businesses. They face the same challenges that any other small business will face: competition from other practices, community members who might remain unaware that the office even exists, expensive marketing overhead, and a widespread anxiety that keeps many patients away.
Social media provides a cheap and highly effective way to combat each of those challenges head-on. Dentists are busy professionals, and many might feel that social media has passed them by. DentalVibe's new white paper arms dentists with a straightforward, easy-to-understand tutorial on using each of the major social media platforms, specifically for marketing dental practices.
The white paper offers a number of exciting features, including:

Coverage of EVERY major social media platform: DentalVibe's new white paper includes a dedicated section for each of the internet's most popular, high-traffic social media tools and forums, including: Facebook, Twitter, LinkedIn, YouTube, Vimeo, Foursquare, Flickr, Pinterest, Instagram, Blogs, RSS Feeds, Tumblr, and Google+. Each platform is presented with easy, practical tips on how dentists can market their services online and in their communities.
Analysis of Business Advantages for Dentists: The white paper reveals three principal ways in which social media marketing directly leverages an essential business advantage for dental practices. Dentists will emerge with an in-depth understanding of how social media marketing brings in business with measurable results.
Upbeat, Engaging Format: "Social Media Marketing for Dentists: How to Do It & Why You Need To" is presented in a 27-page, professionally designed spread. Bullet points, fascinating statistics, and substantive how-to's are communicated with easy-on-the-eyes graphical design. The tone is friendly, helpful, and engaging. Dentists will relate to the prose and have fun brainstorming creative marketing methods while using the white paper's easy suggestions.
The white paper, "Social Media Marketing for Dentists: How to Do It & Why You Need To," can be downloaded free of charge. DentalVibe is dedicated to marketing the dentists who use their products and developed this latest white paper in conjunction with expert online marketing partners and leaders in inbound and social media marketing.
Practitioners can visit DentalVibe's brand-new Marketing Support Center to learn all about how DentalVibe is expanding its efforts at marketing dentists and educating consumers. Producing free publications and providing easy-to-access resources, like this white paper aimed at social media and marketing, is only one of DentalVibe's many avid efforts toward marketing dental practices. The DentalVibe Dentist Locator also maximizes exposure for dentists by allowing patients to find a dentist in their area and access an exclusive, dedicated page for each practice.
About Bing Innovations, LLC
BING Innovations, LLC, established in 2008, is the exclusive provider of the DentalVibe® Injection Comfort System, a revolutionary, patented, and award-winning dental device that uses VibraPulse® technology to eliminate the pain of dental injections. DentalVibe, invented by Steven Goldberg, D.D.S in Boca Raton, FL, is FDA-approved and registered and is proudly assembled in the USA. BING exists to improve patient comfort by developing cutting-edge products for health professionals. To learn more, please call 877-503-VIBE (8423) or visit http://www.DentalVibe.com.