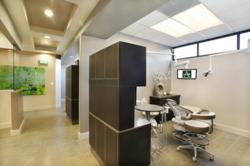 We love seeing how happy people are when they have healthier, straighter smiles...
Los Angeles, CA (PRWEB) July 31, 2012
The Invisalign treatment has garnered increased attention over the past several years. As a dentist working in West Hollywood, where it's common knowledge that actors, actresses, and all-around image conscious people tend to reside, Dr. Alexie Aguil has noticed the popularity of the procedure and decided to create special promotional pricing for the treatment. And although the special provides the highest discount for Alaska Airlines' employees, the majority of the discount is still available for any of Dr. Aguil's new or current customers who want to have the Invisalign procedure done.
"We are thrilled to offer this discount to both Alaska Air's employees and our regular customers, new or returning. We love seeing how happy people are when they have healthier, straighter smiles," said Dr. Aguil. For a limited time only, patients can get $1100 off the treatment, making this life-changing procedure available to those who could not previously afford it. But in addition to this amazing discount, Dr. Aguil is offering other perks as well. First, he will be providing a free consultation to anyone who wants to learn more about the treatment and what it can do for them. Second, Dr. Aguil will be providing free records (x-rays, photos, impressions), a $400 value, as well as complimentary teeth whitening, a $299 value; something unheard of for dentists working in 90048 and the surrounding West Hollywood neighborhoods. But for Alaska Airlines' employees, they can get the entire treatment by paying just $200 a month over the next twelve months (after applying their PPO benefit for Orthodontics). However, people should act fast since space is limited and the offer is only valid through September 30th, 2012.
For those unfamiliar with the process, Invisalign focuses on using a series of comfortable and smooth plastic aligners that gradually slide teeth into place. And most importantly the aligners are virtually invisible, which is why the process is so popular among adults and professionals who require a physical presence. When compared to metal braces, the Invisalign trays are a true blessing. Metal braces often get loose wires that can stab gums and tissue around the mouth and get food stuck in them during meals. Metal braces make many everyday activities very uncomfortable. The Invisalign trays eliminate all these problems, and give patients the perfect smile that they have always deserved. Dr. Aguil is the trendsetter for dentists in West Hollywood.
###
ITC is a high-end Internet Marketing firm ranked in the top 1% of the Search Engine Optimization industry. They specialize in Digital Advertising, SEO, Social Media Marketing, Reputation Management and Video Production. ITC is proud to have worked with Dr. Aguil in developing a successful online marketing campaign.