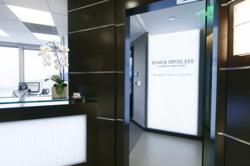 BEVERLY HILLS, CA (PRWEB) January 15, 2013
Patients of Beverly Hills dentist, Dr. Kevin Sands will get a surprise when they visit his dental office - a newly remodeled look! Dr. Kevin Sands, is proud to announce he has redesigned and renovated his Beverly Hills dental office to better serve his Beverly Hills, Los Angeles California dental patients.
Dr. Sands has proudly served his dental patients for 12 years in the same Beverly Hills location- just a half-block off of Rodeo Drive in the heart of Beverly Hills. The new office look features the newest and most state-of-the-art dental technologies available, big screen TV's in every room, and all new chairs.
"I am really pleased with the remodeled office," said Beverly Hills cosmetic dentist, Dr. Kevin Sands. "I think that it is a reflection of the perfection we strive for in every patient we see."
Dr. Sands offers a variety of cosmetic dentistry and general dentistry treatment plans including, porcelain veneers, teeth whitening, dental bonding, and dental implants. Dr. Sands graduated from the USC School of Dentistry. He also studied the art of cosmetic dentistry at the respected Las Vegas Institute (LVI).
Dr. Sands is well-known in Beverly Hills for his celebrity dental patients, such as Robert Downey Jr., Kim Kardashian, and Kanye West. Dr Sands' cosmetic dental work has been featured on E!'s Dr. 90210, The Style Network's 2nd Look, InStyle Weddings, People Magazine, and many more.
About Dr. Kevin Sands, DDS
In addition to being a graduate of the USC School of Dentistry and the Las Vegas Institute for Advanced Dental Studies, Dr. Sands is currently a member of the Academy of Cosmetic Dentistry, the American Dental Association, the California State Dental Association, and the Beverly Hills Chamber of Commerce.
Dr. Sands provides state-of-the-art smile makeovers at his Beverly Hills office, including procedures such as porcelain veneers, porcelain crowns, teeth whitening, Invisalign®, restorative dentistry, and dental implants. He also provides several sedation dentistry options for patients.
Learn more about Dr. Sands and his practice by visiting his website at http://www.beverly-hills-cosmetic-dentist.com/.