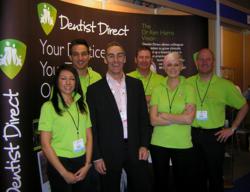 we feel that we have once again widened our prospects and have let everyone know that we are serious about making a difference in the dental market
(PRWEB UK) 1 November 2011
Dentist Direct, which is currently seeking clients all over the country, exhibited at the British Dental Trade Association (BDTA) Dental Showcase, where it received around 60 high-quality enquiries from interested parties.
Although this is less than the 150-plus enquiries it received at its launch earlier this year, Dentist Direct is confident that there was a higher percentage of enquirers who had a genuine desire to open their own practice with the company's support, and that because of this, more partnerships will come of it.
Dentist Direct launched with a stand at the British Dental Association earlier this year and has so far received eight deposits with a further 31 going through the process of seeking advice from financial and legal professionals before making the next step. The team is now estimating that around 15 of those who came to their stand at the Showcase will be keen to join the company as a matter of urgency.
The company also gained lots of positive feedback on its services during its exhibition at the BDTA Dental Showcase, some of which came from well-respected industry advisors and suppliers with whom Dentist Direct has formed good relationships.
These include the team at Henry Schein, whose equipment the company will be looking to provide in each of its practices.
Sarah Purvis, marketing director of Dentist Direct, said: "We were really pleased to be a part of such a massive exhibition. After our fantastic launch at the BDA, the BDTA has been a great follow-up in offering us even more targeted opportunities.
"We felt it was important to have a presence at the Showcase, since we're the "new kid on the block" so to speak, but it was amazing how many people already knew who we are and came to our stand specifically to discuss our opportunities. This shows us that our two years of research, hard work and PR to date have paid off.
"This Showcase was definitely a case of quality over quantity. The people who stopped to discuss what we had to offer were incredibly serious in learning about our services and how we can help them to start their own practice. The general feedback also seems to be that we are doing something very different but very exciting for dentists, as well as giving the new generation of dentists a new route to market.
"Overall, we feel that we have once again widened our prospects and have let everyone know that we are serious about making a difference in the dental market by supporting people in setting up anywhere they want to be and giving them the freedom to focus on what they enjoy – looking after their patients!"
The next stop for Dentist Direct will be the Dentistry Show at Birmingham NEC on March 2nd and 3rd, 2012, where they will be found at stand M46.
For more information on the company, please visit: http://partners.dentist-direct.co.uk, follow @DentistDirect on Twitter for all the latest news from the company, or find the group on Facebook.
###