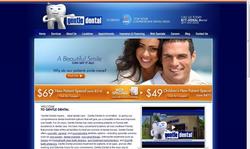 Boca Raton, FL (Vocus) August 20, 2009
Gentle Dental, part of the Ideal Dental Care® network and professionally managed by Northwestern Management Services and operating 13 modern general and multi-specialty dental practices offering comprehensive general, cosmetic and specialty dental treatment, including orthodontics in South Florida, is giving away thousands of dollars in free dental care to lucky winners of a registration contest at the upcoming 7th Annual 'Our Kids World' Family Fun Fest at the Americraft Expo Center on the South Florida Fairgrounds. This 2-day event, scheduled on August 22nd and 23rd, is an exciting and educational venue for children under 12. A variety of games, shows, and activities featuring some of the biggest names in children's television are on hand for the festival, ultimately offering fun and inspiring entertainment for all children.
As a proud sponsor of the 'Nickelodeon's Photo Splash Event with SpongeBob SquarePants and Patrick!' at Our Kids World, Gentle Dental will be present to meet South Florida's families and tell them about Gentle Dental's Register to Win Contest and why the convenience of all general, specialty and cosmetic dental care in one place truly is Ideal Dental Care®.
As part of the contest, a dental makeover or orthodontic braces treatment from Gentle Dental's dentists in South Florida includes a comprehensive exam, a full series of x-rays, a dental treatment plan and dental treatment defined by a Gentle Dental dentist and accepted to by the winners. Gentle Dental will take care of all the costs associated with treatment - up to $5000 - at one of their 13 locations in Palm Beach, Broward, and Dade Counties.
The winner of the Gentle Dental 'Our Kids World' Makeover or Free Orthodontic Braces will be announced on Gentle Dental's website on or before September 30th, 2009. Those who enter the contest should check Gentle Dental's website frequently to see if they have won. Contestants should also check the terms of the offer available on the website's Makeover page.
At the 'Our Kids World' Family Fun Festival, the kids can meet with celebrities like SpongeBob SquarePants and Captain Jack Sparrow, as well as learn about exotic animals and visit the petting zoo. Meanwhile, parents and adults can register to win a dental makeover or orthodontic treatment from Gentle Dental, get a free new toothbrush, and get a chance to receive thousands of dollars worth of free dental care and a healthier, brighter smile.
About Gentle Dental
For patients seeking a qualified orthodontist or dentist in Florida, Gentle Dental is one of the most familiar group dental practices in South Florida. With thirteen state-of-the-art facilities located throughout South East Florida, including the Miami, Ft. Lauderdale and West Palm Beach areas, Gentle Dental has served more than 250,000 patients for over 25 years with comprehensive cosmetic, restorative, and general dentistry treatment options ranging from porcelain dental veneers, teeth whitening and periodontal care to dental implants, orthodontic braces, crowns and bridges, and complete dental makeovers. Gentle Dental offers a choice of dentists, affordable fees, no-interest financing and accepts most dental insurance plans in Florida.
For more information on Gentle Dental and the Register to Win for a Dental Makeover and Orthodontic Braces Contest at 'Our Kids World' on August 22nd and 23rd, the practice can be reached at 877-3-IDEAL DENTAL, or (877) 343-3253. Additional Contest information can be found at http://www.idealdentalcare.com
# # #