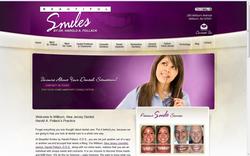 Millburn, NJ (Vocus) March 18, 2010
A cosmetic dentist in Millburn, New Jersey is harnessing the ever-evolving power of the internet to bring new information to patients and educate them on procedures that can help them keep their teeth healthy and their smiles bright. Dr. Harold Pollack with Beautiful Smiles in Essex County announces the launch of his new website, which acts as a virtual doorway into his practice. The site is designed to give web visitors easy access to a range of information on Dr. Pollack's practice, and help them learn detailed information on dental treatments and procedures that can improve the form and function of their teeth and gums.
Working in collaboration with Rosemont Media™, a dental website design firm in San Diego, Dr. Pollack has crafted a new web presence that provides people with a look inside Beautiful Smiles and the procedures he offers, such as family and cosmetic dentistry, oral cancer screening, and restorations of dental implants in Millburn, New Jersey. The new site also includes a variety of before-and-after photos featuring some of Dr. Pollack's patients to give viewers an idea of successful treatment results. Visitors can also read a detailed biography of Dr. Pollack, and learn more about state-of-the-art technology used at the practice to make dental treatment as comfortable as possible. Dr. Pollack also maintains an updated blog which answers patient questions and gives details on procedures.
The new website for Beautiful Smiles features an array of pages designed to educate patients on New Jersey teeth whitening and porcelain veneers treatments, restoring missing teeth with replacements that look and feel natural, and overall dental care that can prevent further problems down the road. Dr. Pollack says he hopes his new website will not just serve as an introduction to his practice, but also help visitors learn more about taking care of their teeth. Dr. Pollack says there are now a variety of ways to help anxious patients relax and feel more comfortable during dental treatment, and he hopes the site will assure web visitors that there are many procedures available that can assist them in maintaining a healthy, beautiful smile.
About Dr. Harold A. Pollack
Harold A. Pollack, DDS has been a practicing dentist in the Millburn, New Jersey region for more than 30 years. He is a Charter Member in the New Jersey Chapter of the American Academy of Cosmetic Dentistry and a Fellow of the Academy of General Dentistry. Dr. Pollack also holds memberships in the American Dental Association, the New Jersey Dental Association, the Academy of Computerized Dentistry of North America, and others. During his impressive career, Dr. Pollack has also been named a Top Dentist by NJ Monthly Magazine, and has been recognized in a vote by his peers as a "Best Dentist in America".
For more information, Dr. Harold Pollack and Beautiful Smiles can be reached at 280 Millburn Avenue, Millburn, NJ 07041 – (973) 947-4331. http://www.beautifulsmilesnj.com
###