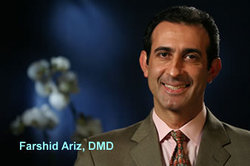 Dr. Ariz, Northridge dentist, uses the newest and best in dental technology to provide care for his patients.
Northridge, CA (PRWEB) June 22, 2010
Dr. Ariz, Northridge dentist, uses the newest and best in dental technology to provide care for his patients. These advanced procedures enable Dr. Ariz and his staff to treat patients with techniques that are quicker, more efficient and more comfortable than techniques that were used previously.
Modern dentistry can provide options in dental treatments that were not possible at one time. From basic care to cosmetic procedures and restorative techniques, Dr. Ariz and his staff are well-skilled in all new dental procedures. Dr. Ariz has options in dental care that enable him to give his patients the best in treatments for teeth and gum problems. Everyone on his staff has a field of specialty in dental care. Dr. Ariz himself specializes in implantology, dental implant, therapy for periodontal disease and full mouth reconstruction. Dr. Arami is trained in dealing with phobic patients and those who have medical problems that could make dental work more difficult. And Dr. Shahkarami, Northridge cosmetic dentist, has training in general dentistry with a specialty in cosmetic procedures. The other members of the staff are Dr. Vaziri, Dr. Lo and Dr. Choi. Dr. Vaziri is a skillful endodontist and Dr. Lo is a well-experienced oral surgeon. Patients can feel secure knowing that whatever type of dental problem exists, there is a specialist who can competently deal with the situation.
With regular checkups and cleanings, good dental health can be maintained. Dr. Ariz can keep on top of any problems that may arise when he sees patients on a regular basis. For those individuals who are not happy with the condition of their smiles, the newest advances in cosmetic procedures are available to enhance and improve the appearance of the teeth. Tooth whitening procedures can remove stubborn stains and discolorations. Porcelain veneers are a good way to improve teeth that are plagued with permanent stains. Veneers can also cover chipped teeth, oddly shaped teeth and spacing problems. Crooked teeth are corrected with traditional metal braces or Invisalign aligners, an invisible way for adults to have misaligned teeth straightened. Periodontal disease can be successfully treated with the newer techniques that are now available. Even complete mouth reconstruction can be done to correct a number of dental problems.
Dr. Ariz and staff can give patients the best in dental care by putting to use the newest in dental technology. Less discomfort and lasting results are the outcome of using the latest in dental technological advances.
To learn more about these techniques or make an appointment at Northridge Dental Group, stop by at their office located at 9801 Balboa Blvd., Northridge CA 91325 or visit their website, http://www.YourNorthridgeDentist.com, or just call (818) 626-3388
Press Release by Avital Web, SEO Company CA.
###