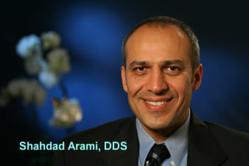 Northridge, CA (PRWEB) May 03, 2011
Northridge dentist, Dr. Shahdad Arami, DDS, and Dr. Farshid Ariz, DMD, have implemented the latest technologies to reduce chair time for their patients. The new i-CAT technology now used at Northridge Dental Group's office provides instant digital scanning compared to traditional x-ray imaging. Patients visiting their dentist in Northridge will now spend less time in the dental chair.
The i-CAT technology allows precise digital imaging to be completed much faster compared to traditional imaging methods. This new in-depth imaging is used to discover and diagnose dental problems that can exist below the gum line and are not visible in routine examinations. Northridge cosmetic dentist, Dr. Arami, uses these technologies to provide instant results to patients at a lower cost due to using this computer controlled software.
These technologies are a modern upgrade to patient comfort. Traditional dental visits required multiple dental visits when a person needed a crown applied. A temporary crown was applied until a certified ceramist constructed the permanent crown in a laboratory. A new appointment would have to be made for the application of the crown. Cosmetic dentist in Northridge, Dr. Arami, now uses the E4D technology to provide same day crowns. This eliminates the waiting time for a dental crown application.
About Dr. Ariz and Dr. Arami
Dr. Ariz is a graduate of Boston University School of Dentistry and holds an advanced certificate in Periodontics. Dr. Ariz uses his passion for teeth restoration to perform implant dentistry, full mouth reconstruction, and esthetic periodontal therapy for area residents. Dr. Ariz is a member of the American Academy of Osseointegration.
Dr. Arami is a graduate of UCLA School of Dentistry. Dr. Arami has pursued advanced education and training in esthetic and implant dentistry. Dr. Arami is known for making every patient feel comfortable during dental treatments and procedures. Dr. Arami is a member of the American Dental Association.
For more information about the new technologies used at Northridge Dental Group, visit http://www.yournorthridgedentist.com. You can call (818) 626-3388 to make an appointment at their office, located at 9801 Balboa Blvd., Northridge CA 91325.
PR by http://www.seocompanyca.com
###