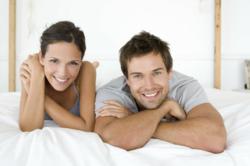 A person's smile is a significant portion of one's self-confidence and appearance. Call 818-962-1141 for a free consultation.
Woodland Hills, California (PRWEB) September 04, 2012
Who is a Candidate for Teeth Whitening?
Not everyone can use teeth whitening products and procedures. Some circumstances must be taken into considerations when planning to use teeth whitening product:

Pregnant or nursing mothers are better to avoid whitening their teeth, as there is not enough research to determine the safety of tooth whitening products during pregnancy or nursing period.
People with hypersensitive teeth should avoid tooth whitening, because this process may enhance the level of sensitivity they experience.
In most cases teeth with a yellow tone will show the best results, where as teeth with naturally brown or gray color tone may not show the desired result.
Teeth that have undergone restorations like veneers or bonding with white fillings, cannot be whitened with carbamide peroxide or hydrogen. The colors of veneers or white filings cannot be changed beyond the color they were originally made. The surrounding teeth determined the colors of these types of restorations. If the surrounding teeth are whitened, the restorations will stand out and lose their more natural look.
Some whitening processes may not affect teeth with internal discoloration or staining from developing disorders, or teeth that have undergone root canals. Internal teeth whitening or permanent restorations may be an option to consider.
How Are Teeth Whitened?
The first layer of tooth surface (Enamel) is semi-translucent, or clear. Dentin that is the layer underneath the enamel is typically yellow, but in some case could be gray, brown or black. This shade is what is seen penetrating through the enamel. A peroxide solution is placed on the enamel in order to whiten the dentin. This process opens the pores of the enamel, letting the teeth whitening mixture to reach the layer of dentin. The mixture will then begin to lighten the dentin, resulting in the whiter teeth.
There are several methods of approaching teeth whitening in variety of price range. When evaluating the final results of any teeth whitening method, it is important to have realistic expectations; it can take several treatments to reach a whiter smile. Everyone's teeth naturally get stained from foods or beverages or from tobacco use; therefore whitening results may not be permanent depending on the patients' lifestyle. Remembering to brush and floss daily, and routine dentist visits for regular cleanings and examinations are best ways to keep teeth white and prevent any oral health issues. Teeth whitening results will differ from person to person, and not every option and procedure will be suitable for specific patients and budget.
Few Teeth Whitening Options:
In-Office Bleaching; In-office teeth whitening offers the fastest and whitest result. They are performed in a dentist office and can usually be done in a little over an hour. In-office bleaching is more costly, but the time that is saved by having immediate results can make this option more appealing and suitable in certain situations like weddings or holidays.
Teeth Whitening Trays and Gels; trays and gels are also effective teeth whitening methods, but they take longer to achieve desired results than in-office bleaching. These clear trays are usually worn a couple of hours a day or overnight and could take anywhere from 3 days to a couple of weeks before any results are noticed depending on the strength of peroxide in the gel. There are two basic types of teeth whitening trays and gels: either purchased from dentist or over the counter. Although both are effective ways of teeth whitening, the one ordered from a dentist create faster and more effective results since they contain a stronger peroxide-bleaching agent than whitening kits purchased over the counter. Also trays ordered from the dentist are custom made to fit an individual's teeth perfectly, where ad over-the-counter trays are generic sized and may allow the bleaching solution to come into contact with gums, causing irritation.
Teeth Whitening Strips; whitening strips sold over the counter are inexpensive, easy to use and most of them work. Teeth whitening strips may take longer to create the wanted results depending on the strength of peroxide that they contain.
Dr. Kaveh Kanani, Woodland Hills Dentist and dental implants specialist, works with a team of specialists that have helped to recreate smiles for countless patients. For those with broken and discolored teeth, they continue to offer treatments including Zoom whitening, porcelain veneers and more. Regardless of the current state of one's gums and teeth, these advanced options provide the answer for patients to once again enjoy a straight, complete, and healthy smile.
A smile will always be a significant part of one's appearance and their self-confidence, and this is why many patients are now starting their initial step on the journey towards great oral health and a great smile at Around the Corner Dental Health Spa. Contact the office at 818-962-1141 to schedule a free consultation. Please mention Smile101 to participate in this month's special promotion.
About World Renowned Cosmetic Dentist Dr. Kaveh Kanani
Contact Woodland Hills Cosmetic Dentist Dr. Kanani at 818-962-1141 and mention Smile101 and take advantage of their Specials such as: Dental Implant specials, $26.99 X-ray and exam and how to get your first regular cleaning complimentary.
818-962-1141
http://woodlandhillsdentalspa.com/
Tusana.com