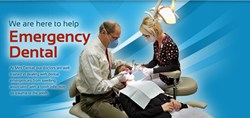 Mint Dental, a full service Anchorage dental office, has announced some exclusive offers to facilitate the new and existing customers with the highest quality, comprehensive dental care.
Anchorage, AK (PRWEB) August 07, 2013
Mint Dental Alaska, a full-service dental care center based in Anchorage, Alaska serving the community with comprehensive dental care services, has recently announced special offers for new and existing patients. Customers can take advantage of these offers at both Mint Dental Offices located at Rhone Circle and East location (Bragaw Street).
The introduction of these special offers is a deliberate effort by Mint Dental to make services affordable and convenient for their patients.
"We have introduced one exclusive offer for existing patients and one for the new customers. As our valued patient, you will receive the absolute best dental care in Anchorage at prices you can afford. Best dental service at affordable prices is what we aim at. We are renowned for dental emergency treatments and these special offers can also benefit the patients with dental exigencies," said Dr. Jonathan McNeil, a General Dentist at Mint Dental.
"We know that you work hard to provide for your family, that is why we will do what we can to make sure you can afford your dental care. We accept almost all types of dental insurance and we accept care credit to make it easy for you to obtain the dental care that you need," he added.
What are the special offers?
For existing customers:
Current patients who will refer a friend or a family member can avail a 30$ gift card that he or she can redeem on any of the dental services later. There is no limit to the number of gift cards a customer can receive.
For new customers:
Only for the Anchorage community seeking affordable dental services, Mint Dental is providing 150$ off on any dental services. This offer is exclusively for the new patients or the first timers. But, customers need to note that this offer cannot be clubbed with any other existing offer. And you need to mention the offer details at the time of booking.
The offers can be used by any new or current customers at both Mint Dental offices located in Anchorage (Rhone Circle and East location). It is a good opportunity for all who live in Anchorage and are seeking for affordable dental services from long time or need urgent dental help.
About Mint Dental Alaska
Mint Dental is a full service dental office based in Anchorage, Alaska providing highest quality, comprehensive dental care in a friendly and professional manner. The dental center offers a full spectrum of dental care including orthodontics, tooth extractions, cosmetic dentistry, emergency dentistry (even on the weekends) and much more. For more details of services and offers, visit http://www.mintdentalalaska.com/
Contact Us
Mint Dental Alaska
3606 Rhone Circle
Anchorage , AK , 99508
United States
Phone: (907)-646-8670
East Location
1565 Bragaw Street
Anchorage , AK , 99508
United States
Phone: (907)-646-8671