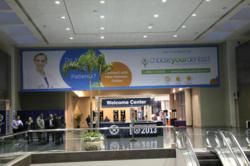 Our goal is to connect families with a dentist that is right for them
Dallas, Texas (PRWEB) January 31, 2013
Finding the right dentist is crucial to every family's health. Keeping family members' teeth and gums in top shape helps in the fight against periodontal disease and other health problems. A great dental health provider works as a healthcare partner by providing in-office services as well as patient education. ChooseYourDentist.com, the premier online site for connecting patients and dentists, provides helpful tips on finding the perfect family dentist.
ChooseYourDentist.com, the Dallas-based online portal that provides an easier way for families to connect with dentists in Dallas, TX and dentists in Mansfield, TX is utilizing its knowledge of the dental industry to provide families with useful tips they can use to help locate a dentist that meets their family's exact dental requirements.
Co-founders Feridoon Amini, an IT professional, and his wife, Dr. Mojan Safavi, a practicing dentist in the Dallas area, knew that some families might be overwhelmed by the prospect of finding a dentist that can meet all of their family needs. Instead of just using the telephone book or blindly searching online for phrases like "Dentist Dallas TX" or "Dentist Mansfield TX," the industry professionals at ChooseYourDentist.com recommend taking a step-by-step approach to finding a dentist.
According to Amini, the first step is thinking about your family's dental needs to determine whether you need to search for a dental specialist. If you have teenagers who need braces, you might need to search for a Dallas orthodontist. Older family members might be better with a Mansfield prosthodontist. The search can then be narrowed geographically by determining whether you will be driving to appointments from home, school or work and searching by zip code to find a dental practice that is conveniently located.
Once a general list is developed, the family can then use ChooseYourDentist.com to get to know more about the top prospective dentists. Patients use the site to learn about potential dental partners, find out what associations the dentist belongs to, review any available testimonials, and watch practice videos to obtain further insights. Amini said that it is also important to know how you are planning to pay for any dental care. Find out if your potential dentist accepts your dental insurance plan. If you do not have dental insurance, you will then need to determine if the practice will accept your credit card. Even with insurance, some treatments may not be fully covered so it is also advisable to find out if the dentist has financing options available.
As a final step, many patients find that it is helpful to schedule a telephone conversation with the dental practice to answer any final questions. Then you should take the time to visit your top dental office choices to take a look around and see if you feel comfortable with the office environment and dental care team.
Further information on ChooseYourDentist.com may be found at http://www.ChooseYourDentist.com, by email at info(at)ChooseYourDentist(dot)com, or by calling 1-888-I-CHOOSE.