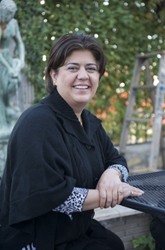 We see an amazing number of people who need treatment and can't afford it.
El Paso, TX (PRWEB) February 24, 2014
Dentist in El Paso, TX Dr. Mehrnoosh Darj is providing emergency dental care at no cost as part of her growing annual effort to serve those who don't have the money to go to the dentist.
She already did 2 days of no cost dentistry – one on Feb 21st and another on Feb 22nd 2014. Many people lined in front of her offices in effort to fix their dental problems.
The 3rd Day of No Cost Emergency Dental Care Day Clinics will be held on Friday February 28th from 8am to 3pm at 211 Texas Ave., El Paso, TX 79901.
Realizing that many people are struggling in the current economy, Affordable Dental Associates owner Dr. Darj wants to give people, who couldn't otherwise afford it, an opportunity to take care of dental problems before they become more serious, and more costly.
No cost dental services, including fillings, emergency root canals, extractions, toothache treatments, and more, will be provided to as many people as can be seen beginning at 8am and ending at 3pm, on a first come, first serve basis. No appointments. One emergency treatment per patient.
El Paso, TX Dentist Dr. Mehrnoosh Darj, sees many patients a month. Yet, according to her, "We see an amazing number of people who need treatment and can't afford it. We come across this every day. So I decided that we needed to address this serious health issue."
Dr. Darj considers the cost of the giveaway in staff time and supplies as "not really important." "What is important is that people understand the two main problems in dental care — tooth decay and gum disease — and that they are both preventable with good hygiene and regular visits to the dentist."
Dr. Darj added, "We will be conducting similar community events in El Paso and Socorro periodically throughout the year to help the less fortunate in our community."
Details of Dr Darj's other community events can be found online at: http://dentistryelpasotx.com/index.php/el-paso-dentist-community-involvements/