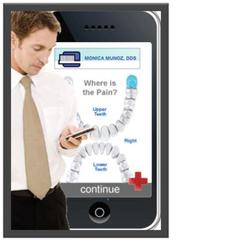 "Patients can experience discomfort and pain at any time. The faster we can help them, the happier our patients will be. With the Dental Anywhere mobile app, this also means fewer trips to the dental office for our patients."
Monrovia, CA (PRWEB) March 29, 2011
Local dentist, Monica Munoz implements new mobile app program for unparalleled patient care. This mobile app, created by Dental Anywhere™, allows patients with Smartphones to effortlessly communicate with the doctor's office without having to email or call.
When a patient has a need, whether that is a concern over bleeding, swelling, or pain; a fractured crown or a tooth; or an issue resulting from a dental procedure, they can immediately open the app and access information on what to do. Based on the criteria the patient selects the app generates dental instructions. With this technology, patients can get first aid on dental emergencies without having to wait for a call back from the dentist. The patient also has the option to alert the dental office if needed.
To make patient/office communications more streamlined, the app, also allows patients to request appointments, review appointment history, retrieve post-operative care instructions and navigate to the office from wherever they are through GPS navigation.
Dr. Munoz states, "Patients can experience discomfort and pain at any time. The faster we can help them, the happier our patients will be. With the Dental Anywhere mobile app, this also means fewer trips to the dental office for our patients."
"There are so many benefits to offering this technology to our patients. They know that if they missed information from their appointment or just need directions to the office that they can access it right from their phone" says Diane Biggle, Front Office Manager.
Dr. Munoz's dental mobile app can be downloaded from any app store or marketplace by searching for "My Dentist".
About Dr. Munoz:
Monica Munoz, DDS, 2011 nominee for top dentist in San Gabriel Valley, specializes in beautifying smiles, maintaining dental health, and helping improve appearance. Member of the San Gabriel Valley Dental Society, California Dental Association and American Dental Association, Dr. Monica Munoz is active in preserving the ethics as well as raising the standards of dental care in the industry. Learn more at http://www.MonicaMunozDDS.com and http://www.DentalAnywhere.com.
# # #