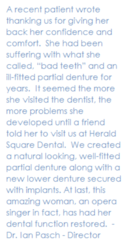 New York, NY (PRWEB) April 30, 2013
Many people suffer with ill-fitting dentures or are not even aware of implant-supported Overdentures. Implant-supported Overdentures are becoming the standard of care for patients who have lost all of their natural teeth and may be the first choice of treatment for them. Herald Square Dental has always been committed to putting patients in a position to smile with confidence. Implant-supported Overdentures are an ideal way in which to achieve this. The replacement of missing teeth with this method has a number of advantages over traditional dentures.
Imagine

Not having a covered palate
No longer needing messy adhesives
No more sore spots from needless rubbing
Implant-supported Overdentures can:

Improve mastication
Improve speech and digestion
Improve appearance and facial support
Offer greater stability and security
Implants have that "wow factor.'' They can improve the quality of life for denture patients, thereby improving self-esteem and confidence. An implant-supported Overdenture provides better support for the lips and soft tissues of the face allowing the facial features to look as close to natural as possible. Dental implants integrate with the jawbone and allow the Overdenture to function more like natural teeth, dramatically reducing the rate of bone loss attributed to tooth loss. Implants stabilize the Overdenture and limit movement to minimize the chance of sore spots and rubbing. Dentures will be attached or supported with the fixed implants, freeing patients up to focus on the more important things in life. As a candidate, for even a single missing tooth replacement, a dental implant should be the first treatment option.
Tired of feeling embarrassed or uncomfortable because of loose, slipping or ill-fitting dentures? Consider the option of having implant-supported Overdentures. Herald Square Dental & the Denture Center have an on-site, modern laboratory that can fabricate custom dentures the same day. In practice for over 35 years, the full service, cosmetic dental practice, under the direction of Dr. Ian D. Pasch, enjoys a reputation for quality, state-of-the art dentistry. Whether considering implants, veneers, dentures or Invisalign patients can relax, watch a movie or watch the sunset while dental care is provided in the comfortable office of Herald Square Dental. The goal is for patients to smile, speak, eat, laugh and live with confidence again.
Herald Square Dental offers quality, convenience and affordability in a centrally located, full-service, state-of-the-art facility in Herald Square, New York City. Most insurance plans are welcome, several payment plans are offered in addition to senior citizen discounts. There is currently a Spring Special for Overdentures with implants: $3,600 per lower, $4,500 per upper. Additional charges may occur for more complex cases. Offer good through June 30, 2013. Call (212) 689-0024 for a free consultation or visit http://www.heraldsquaredental.com or http://www.denturecenter.com .
About the company:
Herald Square Dental and The Denture Center is a full-service dental office offering everything from porcelain veneers and orthodontic care, including Invisalign to implants that replace missing teeth entirely. They are also well known for quality dentures custom fabricated right on the premises.
Conveniently located in Herald Square in the heart of New York City, Herald Square Dental and The Denture Center has been known as New York's place for quality cosmetic dental care and same-day dentures since 1977. They are equipped with all the technology and comfort to optimally restore beautiful smiles successfully, affordably, quickly and conveniently. Dr.'s Pasch, Yam, Shirzadnia and Song and their friendly staff are highly-trained in fixing chipped, cracked or stained teeth with lovely new veneers. At Herald Square Dental and The Denture Center, they offer a wide range of affordable dental makeover options, including natural-looking porcelain crowns, tooth bonding and tooth-colored composite fillings.