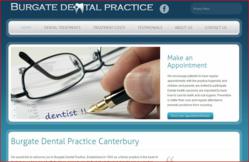 There is good demand for providing low cost but effective web design for the dental industry
Dover, Kent, UK (PRWEB UK) 30 June 2012
Local businesses want low-cost but value website services that have no long-term cost tie in. The Dover based company is pulling out all stops in trying to achieve this for prospective clients.
With recent new web developments of dentist websites, the company realised that there is good demand for providing low cost but effective web design for the dental industry. The company is trying to make good in roads for websites for dentists and associated online marketing.
Most of the new work came from local dentists wanting better value for money with their website promotion. They were also less than happy at the existing services and design that were being provided, and have left Yell.com for the Kent business.
"We are happy to take business from the large corporates," states owner Chris Longley. "It shows how we smaller businesses can compete with larger companies by not tying in clients with repeating monthly or yearly fees and still offer a good service. Anything the corporates can offer we can too, but at a much lower cost."
One such local business to come across to the Kent outfit is Burgate Dental Surgery in Canterbury. They have been provided with an easily navigable design which also clearly outlines the dentists unique selling point (USP) for its local services. The company left Yell last year for the Kent Design firm.
The Kent firm also states that there are a number of free services provided by search engines and other online companies which enabled local business to have a good regional online presence. Companies do not have to pay anybody for these additional services, such as maps or free directory listings and are ideally suited for tying in with new or existing website designs.
"It is the art of the local web designers to eek out what is value for money with clients on low budgets. It allows us to concentrate on putting out efforts into the design whilst knowing our clients get good online visibility," concludes Mr Longley. "We aim to follow this plan with our Dentists Website Design services."