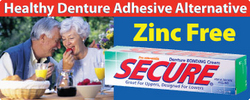 Our market research has indicated that denture wearers are seeking a secure and long lasting bond with their denture adhesives and denture creams. To meet consumer needs SecureDenture.com now offers a 12 hour holding power, zinc-free and water proof denture adhesive cream for denture wearers who are worried about bonding issues
Ghent, NY (PRWEB) October 15, 2009
Secure® Denture adhesive contains three main ingredients that provide a 12 hour secure bond:
Miglyol (derived from glycerin)
Polyvinyl acetate (non water soluble ingredient used as the base in many chewing gums)
Sodium Carboxymethylcellulose (from tree bark).
The Polyvinyl acetate is the adhesive, and it works only on a dry surface. Carboxymethylcellulose (CMC) is used to keep the jaw dry. CMC works like a sponge - it absorbs saliva. If the "sponge" is filled with saliva and it can't absorb anymore, the jaw becomes wet. When the jaw is wet, the polyvinyl acetate loses contact with the jaw.
At that point the denture is being held in place only by suction, just like any other denture adhesive. So as long as the Carboxymethylcellulose is absorbing saliva, your dentures are kept securely bonded to your gums.
"Our market research has indicated that denture wearers are seeking a secure and long lasting bond with their denture adhesives and denture creams. To meet consumer needs SecureDenture.com now offers a 12 hour holding power, zinc-free and water proof denture adhesive cream for denture wearers who are worried about bonding issues" - Eileen Sheets, Product Manager, SecureDenture.com
The main benefits of Secure denture adhesive are:
Water proof
12 hour holding power
Liners available
Zinc-free
Now consumers may purchase with confidence a zinc free, 12 hour holding denture adhesive cream and not worry about slippage.
For more information about Secure Denture, call Eileen Sheets at 800-641-7555. Or go to: http://www.SecureDenture.com
###