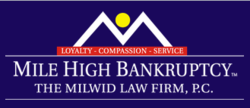 Denver, CO (PRWEB) February 28, 2013
Denver bankruptcy attorney, Peter A. Milwid, of Mile High Bankruptcy, specializing in Chapter 7 bankruptcy, is pleased to announce expanded hours and service available during the 2013 tax filing season. Tax season is particularly busy for bankruptcy attorneys in Denver and nationwide because many individuals pay for their chapter 7 bankruptcies with their tax refunds.
If a person files bankruptcy and has not received their refund, they may be required to turn the refund over to the bankruptcy trustee as an asset of the bankruptcy estate. As standard bankruptcy planning, most bankruptcy lawyers in Denver would advise clients to file their taxes first and spend the refund on reasonable bankruptcy legal fees and other family necessities before filing their bankruptcy to avoid losing their refunds. This is entirely permissible if the funds are spent on family necessities and not paid to relatives or other insiders or to pay any debts in excess of $600.
Mile High Bankruptcy shares office space in Denver, Colorado with the Denver Tax Group, an unaffiliated but excellent tax preparation service that is devoted to preparing and processing tax returns and helping people with tax problems at a fair and affordable price. This tax season, many clients are taking advantage of the convenience of "one stop shopping" by processing their tax returns and their chapter 7 bankruptcy filings in one convenient location at 1888 Sherman Street, Suite 650, Denver, Colorado 80203. Free consultations are always available and clients can learn more by visiting the firm's website, http://www.milehighbankruptcy.com, or calling Mile High Bankruptcy directly at 303-831-0733.