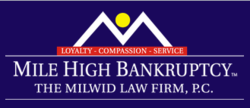 For over twenty five years the firm has been known for its solid, no nonsense advice to help people file bankruptcy, and we are very excited to expand and share this knowledge with people on the web
Denver, CO (PRWEB) June 12, 2013
Denver Bankruptcy Attorney, Mile High Bankruptcy, one of Denver, Colorado's most prestigious consumer bankruptcy law firms (AV Rated for many years), has greatly expanded its Denver bankruptcy blog postings to provide individuals seeking Chapter 7 Bankruptcy relief in Denver with time honored and relevant information both before and after filing.
Founder and President of Mile High Bankruptcy, Peter Milwid, stated that, "For over twenty five years the firm has been known for its solid, no nonsense advice to help people file bankruptcy, and we are very excited to expand and share this knowledge with people on the web."
In addition to the information-filled pages of Mile High Bankruptcy's website, the Denver Bankruptcy lawyer blog (Peter's Blog), give Mr. Milwid the opportunity to address client's human and practical questions about their situation without getting bogged down in leagalese.
Topics include, "If I File Bankruptcy, Do I Need to Go to Court?", "Renting A Home in The Denver Metro Area after Filing chapter 7 Bankruptcy", and many other real life topics containing helpful advice on the entire bankruptcy process.
Denver Bankruptcy Lawyer Milwid and the staff of Mile High Bankruptcy strive in their blog posts to expand service and help to their clients in this exciting and helpful way. For more information about Chapter 7 Bankruptcy in Colorado visit our website. Mile High Bankruptcy is also always available for free phone consultations by calling 303-831-0733 any time day or night.