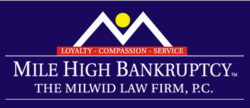 Denver,CO (PRWEB) December 30, 2012
Denver bankruptcy law firm, Mile High Bankruptcy, The Milwid Law Firm, P.C., is pleased to announce that bankruptcy attorney and founder, Peter A. Milwid, has once again been awarded the AV Preeminent Rating for 2013 from Martindale-Hubbell Peer Review Ratings. AV is the highest rating possible from this historic and eminent institution.
According to the Martindale-Hubbell website, the AV Preeminent award is "a testament to the fact that a lawyer's peers rank him or her at the highest level of professional excellence", and are based on reviews of the lawyer made by lawyers and judges in the lawyer's specific area of practice.
The lawyers' rating is determined by his or her legal knowledge, analytic capabilities, judgment, communication ability, and legal experience. The ethical component of the rating "denotes adherence to professional standards of conduct and ethics, reliability, diligence and other criteria relevant to the discharge of professional responsibilities".
Founded 1987 in Denver, Colorado, Mile High Bankruptcy, practices in the areas of Colorado Chapter 7 bankruptcy filing for individuals and small businesses. For more information about Denver bankruptcy law firm please visit: http://www.milehighbankruptcy.com/about-the-firm or call 303-831-0733 to schedule a free consultation.