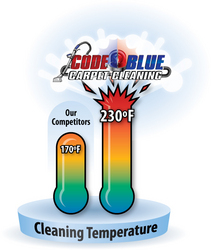 We had Code Blue Carpet Cleaning come about a month ago and even with 3 kids and two cats our carpets and stairs still look great! I recommend Code Blue to anyone and everyone around North Denver. 5 Star quality at a great, affordable price.
Denver, CO (PRWEB) February 10, 2011
Code Blue Carpet Cleaning is a family owned and operated business serving the Denver metro area as well as Northern Colorado. They employ only IICRC (Institute of Inspection Cleaning and Restoration Certification) certified technicians.
Code Blue Carpet Cleaning is dedicated to quality service and operate top of the line truck mounted steam cleaning equipment capable of producing steam at temperatures of 230 degrees Fahrenheit which separates them from their competitors. Traditionally, carpet cleaners either use lower power portable steam extraction that is not truck mounted or use a truck mounted steam cleaner at lower temperatures.
The Code Blue base process consists of 12 steps to guarantee a fabulous outcome:
1. Carpet Evaluation and Client Education
2. Pre-vacuuming
3. Pre-conditioning of All Areas To Be Cleaned
4. Pre-conditioning Agitation
5. Truck-mounted Steam Extraction
6. Spot Treatment & Removal / Pet Stain and Pet Smell Removal optional
7. Secondary Extraction
8. Client Inspection
9. Quick Dry
10. Carpet Grooming
11. Post Deodorizing
12. Final Walk-through and Evaluation With Client
All of Code Blue's IICRC (Institute of Inspection Cleaning and Restoration Certification) certified technicians are also certified Colorado law enforcement officers who you can trust. Code Blue Carpet Cleaning prides itself on superior service and honest business practices. Code Blue Carpet Cleaning Denver offers straightforward pricing and avoids all bait and switch marketing schemes such as hidden add-ons that raise the price for low quality work.
Code Blue Carpet Cleaning is ramping up to celebrate 20 years in business next year by offering the Code Blue 200% Satisfaction Guarantee. If you are not completely satisfied with the service we provide we will re-clean the area of concern for free. If after the second cleaning you are still not satisfied we will refund your money! We feel that strongly about the products we utilize and the quality of our professional carpet cleaning Denver services.
If you've ever dealt with carpet cleaners that drag their hoses outside or do not protect your wall corners, you've dealt with the others. Now try Code Blue Carpet Cleaning for quality work, superior service, and trustworthy technicians all at a great price.
Code Blue Carpet Cleaning also cleans tile and upholstery. They serve the following areas: Arvada Carpet Cleaning, Berthoud Carpet Cleaning, Boulder Carpet Cleaning, Brighton Carpet Cleaning, Broomfield Carpet Cleaning , Commerce City Carpet Cleaning , Dacono Carpet Cleaning , Denver Carpet Cleaning , Erie Carpet Cleaning , Federal Heights Carpet Cleaning , Firestone Carpet Cleaning , Fort Lupton Carpet Cleaning , Frederick Carpet Cleaning , Golden Carpet Cleaning , Henderson Carpet Cleaning , Lafayette Carpet Cleaning , Longmont Carpet Cleaning , Louisville Carpet Cleaning, Loveland Carpet Cleaning , Mead Carpet Cleaning , Golden Carpet Cleaning , Nederland Carpet Cleaning , Northglenn Carpet Cleaning , Platteville Carpet Cleaning , Superior Carpet Cleaning , Thornton Carpet Cleaning , Westminster Carpet Cleaning
# # #