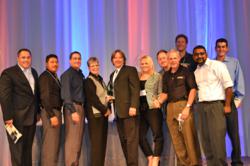 Winning such a prestigious recognition is confirmation to all team members that the Colorado business community recognizes the value of our mission
Denver, CO (PRWEB) September 14, 2012
Swingle Lawn, Tree and Landscape Care was awarded ColoradoBiz Magazine's 2012 Top Company Award in the Services category. This is Swingle's second time achieving this honor, having first won the award in 2004. Swingle was also one of three Top Company finalists in 2009.
"Winning such a prestigious recognition is confirmation to all team members that the Colorado business community recognizes the value of our mission to make people's lives more enjoyable through creating beautiful outdoor spaces year round," said Swingle owner and CEO Tom Tolkacz, "and that giving back to the community is critically important to who we are and why we exist."
Finalists were selected based financial performance, community involvement and outstanding achievement in product innovation, operational excellence and/or marketing effectiveness. Winners were chosen by a panel of Colorado business and public policy leaders. Each company must be headquartered or have a significant presence in Colorado.
Swingle, based in Denver since 1947, met these criteria in part through its design and successful implementation of lawn and tree treatments crafted specifically for Colorado's environment and supporting a broad range of charitable causes and community programs. Swingle is a major sponsor of an ongoing effort to end child abuse in Colorado and of multiple area events including the Denver Botanic Gardens Spring Plant Sale and a $25,000 scholarship for horticulture studies.
Additional considerations included Swingle's support of GreenCare for Troops in Denver, which provides lawn and landscape management for families whose major breadwinners are serving active duty in the armed forces; and its outreach to 20,000 customers through interactive marketing methods including Facebook and Twitter. Swingle's customer satisfaction and retention rates are consistently among the highest in the industry.
Award recipients were reminded at the September 12, 2012, presentation that, "Winning is not the end, it is the beginning. Such recognition continues to drive us for excellence in all we do." Tolkacz commented that he, "couldn't agree more."
About Swingle Lawn, Tree & Landscape Care
Founded in 1947, Swingle Lawn, Tree and Landscape Care has grown to be one of the most respected residential and commercial landscape care companies in Colorado, providing lawn care, tree care and award-winning Christmas lighting installation for homes and businesses. For more information, please contact Vince Serio at (303) 337-6200 or visit MySwingle dot com.