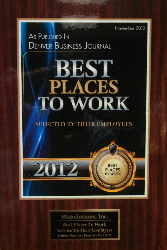 Cultural development goes far beyond nap rooms and pajama parties.
Denver, Colorado (PRWEB) January 09, 2013
Leaders from companies recognized in 2012 as exemplary workplaces are gathering at Denver marketing agency Webolutions® for Denver's Best Places to Work Annual Forum.
"Successful organizations find and keep the right people, said Webolutions CEO John Vachalek. "How do successful business leaders find and recruit the best people and maintain environments that foster employee retention and commitment? Cultural development goes far beyond nap rooms and pajama parties."
Invitations are being provided to executives at businesses cited in 2012 by the Denver Business Journal, Colorado Biz Magazine and the Denver Post. Webolutions was recognized in the Denver Business Journal's Best Places to Work small business category.
The purpose of the program is to provide an interactive forum where company leaders can come together and learn though interacting with one another on the subject of creating a great place to work. Over breakfast, conversation will focus on what it takes to create and maintain an empowered, positive company workforce & culture.
This Year's Forum Topics Include:

How do successful companies encourage individual leadership from all team members?
How are corporate visions and goals communicated to the entire team?
How is overall cultural success tracked and measured?
What innovative cultural programs have been instituted?
What is the underlying secret to successful company cultures?
"We believe in strength through collaboration and mutual benefit through shared knowledge," said Vachalek. "We hope to create a community in which these like-minded executives come together regularly to build relationships and expedite progress toward goals."
When: Thursday, January 17th, 2013 from 7:30 AM to 9:00 AM. Coffee & Greetings begin at 7:00 AM
Where: Webolutions Inc., 6160 S. Syracuse Way, Greenwood Village, CO, 80111
Cost: There is no cost to participate. Attendance is by invitation only.
About Webolutions
Founded in 1994, Webolutions is a privately owned full service marketing agency based in Denver, Colorado. The company's services include branding, website design, application development, Internet marketing, email marketing, mobile marketing, company culture development, ROI tracking and social media marketing. Media contact: Mike Hanbery (303) 300-2640, MHanbery(at)Webolutions(dot)com.