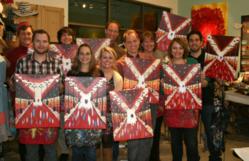 Fostering a culture where team members can reach their goals in life and have fun at work is fundamental to how we believe all companies can become more successful.
Denver, Colorado (PRWEB) November 15, 2012
Webolutions®, a Denver, Colorado-based marketing agency, celebrated its 18th year in business at the Denver Business Journal's Best Places to Work Breakfast on Thursday, November 16, 2012, where it was honored as a top 5 Best Place to Work.
"We congratulate all 40 companies recognized today," said Webolutions founder and CEO John Vachalek, "and we're proud to be among them. Fostering a culture where team members can reach their goals in life and have fun at work is fundamental to how we believe all companies can become more successful."
Founded in 1994, Webolutions has been recognized by the Denver Business Journal as a Top Web Design & Development agency every year since 2002. An employee-driven Culture Committee plans events, including the annual Holiday Pajama Party, annual White Water Rafting Adventure and monthly events ranging from happy hours and kickball games to on-site professional massages and painting parties.
Employees receive gift cards to retail outlets of their choosing on birthdays and anniversaries of employment. Breakfast is provided every Tuesday. Once a month, three employees create an "International Breakfast" experience, turning a conference room into a French bistro, for example, with music, visuals and culinary delights.
Webolutions volunteers support for the Denver business community by providing seminars for SCORE and the South Metro Denver Small Business Development Center, who named Webolutions its 2011 Corporate Sponsor of the Year. Webolutions supports employee-driven causes including the Comitis Crisis Center, Make-A-Wish Foundation of Colorado and youth athletic organizations.
The company eschews "Performance Evaluations" for quarterly Relationship Updates and while goals and progress are tracked, a focus is always on the strengths of the team and each individual and how the employee and company can work together to create an increasingly positive environment.
There are no cubicles at Webolutions. "Our open floor plan," said Vachalek, "means we have to hire people who enjoy and can succeed in such an environment." This is one of the reasons, Vachalek added, that the company has a stringent onboarding process during which any candidate can expect at least six points of contact before receiving an offer.
According to Vachalek, more so than the absence of walls, the office ping pong table draws the most curiosity from guests. "Ping pong enhances motor functions, strategy functions and long-term memory," he said. "We use it to get a quick mental reset between projects, maintain some friendly competitiveness with each other and sometimes just to get the blood flowing."
Beginning in 2013, Webolutions is creating a regular leadership forum for all the Best Places to Work companies. "These discussions," said Vachalek, "will focus on the critical elements necessary to continue to evolve and create great teams, happy people and great places to work."
About Webolutions
Founded in 1994, Webolutions is a privately owned full service marketing agency based in Denver, Colorado. The company's services include strategic branding, website design, application development, Internet marketing, experience marketing, public relations, email marketing, mobile marketing and social media. Media contact: Mike Hanbery (303) 300-2640, MHanbery (at) Webolutions (dot) com.