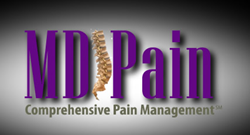 Metro Denver Pain is now offering a new, effective type of epidural steroid injection for sciatica with exceptional results!
Denver, Colorado (PRWEB) February 15, 2016
Metro Denver Pain Management is now offering a new type of epidural steroid injection for the relief of sciatica. The procedure is outpatient, low risk and offered by the Board Certified providers at the practice. Call (720) 306-9575 for more information and scheduling with pain management Denver trusts.
For decades, epidural steroid injections have been a vital procedure to help patients achieve sciatica relief. Thankfully, a new type of epidural procedure has been developed known as a transforaminal epidural. The Metro Denver pain management physicians are experts in the procedure, which involves placing the cortisone medication at the exact point of the nerve being pinched.
Outcomes with the procedure have been exceptional, with most patients achieving relief and avoiding the need for potentially risky surgery. Along with the injection, the providers also offer medication management, bracing and trigger point injections for sciatica as well.
The Denver pain clinic accepts most insurance and successfully treats both acute and chronic conditions. With over twenty five treatments available, each patient's regimen is customized. This includes sciatica, neuropathy, failed back syndrome, arthritis, migraines and spinal stenosis just to name a few.
To receive more information about the new procedure and how Metro Denver Pain can alleviate one's pain, call (720) 306-9575.