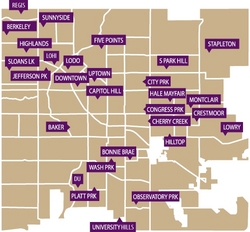 We not only view Denver real estate as a place to make a home, but as an investment toward wealth building and a sound financial future.
Denver, CO (PRWEB) September 14, 2010
The Denver Team, a new real estate firm and brokerage located in the Highlands neighborhood of Denver, is working to improve the current housing landscape by combining significant experience with unmatched customer service in order to successfully revitalize neighborhoods during a challenging real estate market.
Nathan Adams, owner and broker, established the Denver Team to provide a fresh new option for buyers, sellers, and investors in Northwest Denver's real estate market. With over 20 years combined experience, key to the Denver Team's success is focusing on a collaborative effort in which highly skilled and trained brokers work in conjunction with one another in order to achieve positive results for their clients. By concentrating on development, they are helping to revitalize Denver neighborhoods by taking properties in disrepair and making them marketable again.
"We are growing at a very rapid pace and our past successes make for a bright future for our brokerage as well as the clients we work with," says Nathan. "Unlike other firms, our team approach means you can always reach someone in our office for any of your real estate needs and questions."
Since opening, the Denver Team has grown to include 6 licensed real estate agents. Primarily focused in Denver County, they also work in the greater Metro Denver area including Denver, Jefferson, Adams, Arapahoe, Douglas and Weld Counties.
Ranking first in homes sold for three consecutive years with Sterling Real Estate Group, Nathan successfully sold 104 homes in 2008 and 105 homes in 2009, with over 60% of sales located in the Highlands, Berkeley, Sunnyside and surrounding areas. The Denver Team is forecasting sales of 100+ homes in 2010, and 150+ homes moving forward into 2011.
For additional information about the Denver Team, or questions regarding buying and selling homes or the current state of the market, please visit http://www.realestatedenverteam.com.
###