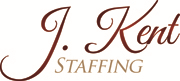 We will stay focused and committed to honoring the terms of the contract and keeping true to our principal motivation for getting involved: Improving the lives of American veterans and their families.
Denver, Colorado (PRWEB) August 11, 2014
Denver staffing agency J. Kent Staffing, through its GSA Schedule 736 Temporary Administrative and Professional Staffing Services (TAPS) contract, has been awarded a contract for staffing 40 Medical Support Assistants for the Department of Veterans Affairs (VA) in Colorado.
"Problems with the healthcare American veterans receive has been well documented now for several years and it is a complex issue," said J. Kent Staffing founder and CEO J. Kent Gervasini. "We are pleased and proud to have been selected for this large and significant staffing project and the opportunity to be part of the solution."
The stated goals for the VA's Denver staffing project were clear—provide greater effectiveness and efficiency in VA outpatient appointment scheduling using a high level of coordination to avoid patients having to make multiple return trips; and to improve inter-generational communications.
"Effective communications," said Gervasini, "vary with age groups. World War II veterans, Vietnam-era baby boomers and millennials returning from Iraq and Afghanistan all prefer to receive information and communicate in different ways. We have to identify, recruit, hire and onboard people who understand the VA's unique population and possess the acumen to make an impact with that knowledge. The skill sets we are looking for require critical thinking, problem solving, excellent customer service and diverse computer skills. At the same time, successful performance requires the human touch--kindness, caring and sensitivity."
The Denver staffing agency moved quickly and vigorously to improve the healthcare experience for Colorado's veterans. Within two weeks of being awarded the contract, J. Kent Staffing had successfully recruited, vetted and hired 32 qualified Medical Support Assistants for the VA's metro Denver locations. J. Kent Staffing will add another eight Medical Support Assistants to its staff once other VA locations are identified.
Successful candidates include an M.D. from Argentina, a six-year veteran of the US Air Force, a Senior Tax Accountant from Poland, a Radiology Tech, a Certified Medical Assistant, a Case Management Specialist and a Master Scuba Instructor. Degrees included Masters of Science in Criminal Justice, Master of Science in Leadership, MBA, J.D. Law Degree and BA's in Speech Communication, English, Social Science and Business Administration. Within three weeks of being awarded the contract, 32 J. Kent Staff members completed the onboarding process and started work.
The multi-faceted recruiting and onboarding effort was extremely rigorous, even for J. Kent Staffing—an agency known since 1979 for its uniquely demanding candidate qualifying processes. "J. Kent's Staffing Managers worked closely in cross-functional teams for this recruiting and staffing effort," said Gervasini. "The staffing expertise of J. Kent's highly experienced and knowledgeable Staffing Managers enabled the VA's staffing plan to be successfully executed within a very short timeframe."
Under the terms of the contract, J. Kent Staffing is responsible for:
1. Recruiting – Finding available quality candidates within a compressed time frame was essential. J. Kent Staffing's referral base and customer base, which the company has built and nurtured since 1979, provided the candidate database that made this possible.
2. Intake – J. Kent Staffing was tasked with establishing the criteria for the hiring process and hiring decision parameters. Included in these criteria were qualitative considerations such as understanding the importance of kindness and being supportive and the ability to employ critical thinking, diplomacy and good judgment when helping veterans of various ages, anomalies and experiences.
3. Vetting - Level 1 – J. Kent Staffing's industry-leading standard for candidate qualification includes and requires a rigorous telephone prescreen, testing in MS Office Suite, additional job related testing, completing a comprehensive application and in-person interview process. Employment verification for eligibility to work in the U.S. includes: I9, the federal E-Verify program as well as the State of Colorado required, Affirmation of Legal Work Status. All 32 hires were also required to present with clear background checks (felony/misdemeanor) and drug tests. Vetting is highly labor intensive and administratively expensive.
4. Vetting – Level 2 (Credentialing & Privileging) For candidates successfully exiting the Level 1 Vetting process, VA contract deliverables include more expansive vetting to include Tuberculosis Testing, fingerprinting and badging. Once completed, those successfully vetted at Level 2 were scheduled for training and certification in 16 VA training modules to include, for example, Privacy and Information Security Awareness, Privacy and HIPPA Focused Training, Compliance and Business Integrity, Electronic Appointment Scheduling, Falls Prevention, and Culture and Safety. J. Kent Staffing Manager's project team worked closely with VA's management to coordinate multiple appointments for each J. Kent Employee.
5. Orientation – J. Kent Staffing is conducting contractor workshops covering broad elements such as employer responsibilities, new hire orientation, performance standards and contract deliverables to day-to-day operational specifics such timesheet deadlines, attendance and time-off policies etc.
6. Certification – Contractors must recertify on an annual basis. J. Kent Staffing is responsible for maintaining and monitoring proof of certifications and maintaining J. Kent temporary contractor personnel files.
The contract requires J. Kent Staffing to keep 100 percent of all contractor spots filled at all times. "We know," said Gervasini, "that things happen in life and all 40 of our original staff hired will not work in those spots forever. We will stay focused and committed to honoring the terms of the contract and keeping true to our principal motivation for getting involved: Improving the lives of American veterans and their families."
About J. Kent Staffing
Founded in 1979 in Denver, Colorado, J. Kent Staffing is an independent, woman-owned, DBE/SBE certified, full service staffing and recruiting firm. Services include Retained Executive Search, Direct Hire, Temporary Staffing, Temp-to-Hire, Part-Time & Specialized Staffing (Events Staffing, Project Staffing, Senior Talent, and Intern Program Staffing), Payroll Services, and Skills Testing & Tutorials. The firm also supports the staffing needs of federal, state and city government agencies and other major and primary government contractors through a 5-year GSA Schedule award. For more information, please contact J. Kent Gervasini, CPC, CSP, and President at 303-777-7734, jkg@JKentStaffing.com or visit http://www.JKentStaffing.com.