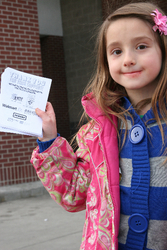 Serving others is a spiritual practice that moves our hearts from self-centeredness to other-centeredness. Serving therefore makes us more like our teacher – Jesus. This is what we want our Denver church to be about."
Denver, CO (PRWEB) April 1, 2010
Ron Johnson, the former pastor of the largest inner city church in Denver, started Restoration Community Church with a large number of Denver church volunteers this past November. The church currently meets at the Colorado Community Church facilities on Saturday evenings from 5pm to 6:30pm – still early enough to be convenient for many of the members that have children, but late enough that the community meets for dinner after the worship services as a community at local restaurants.
The church not only has weekly service projects where they prepare and serve food to those in need in Denver, but on the last Saturday of every month they spend the day as a community participating and leading service projects in Denver, instead of having their more traditional Saturday evening worship service.
Ron Johnson says on his blog, "Because we grow when we serve. Jesus told us that the greatest among us will be the servant of all (Matthew 20). Serving others is a spiritual practice that moves our hearts from self-centeredness to other-centeredness. Serving therefore makes us more like our teacher – Jesus. This is what we want our Denver church to be about."
Ron goes on to tell the story: 'Because we see Jesus when we serve. Jesus said, 'I was hungry and you gave me something to eat. I was thirsty and you gave me something to drink.' A friend of mine visited Mother Teresa many years ago. He told her he wanted to see Jesus. She put the head of a man with AIDS in this lap and said, 'Meet Jesus.' He was never the same after that and now leads an organization that helps the poor all over the world.'
"Our Denver Easter Service at Restoration will be a bit different this year as well." Ron said.
On Saturday, March 27th the church fed the homeless in Denver and had an Easter egg hunt for the children. They will celebrate Easter this year with an Easter service on Saturday, April 3rd. Enabling their community to relax on Sunday and enjoy time with family and friends and have to stress out about getting up Sunday morning.
"Not only does our Denver church provide excellent music and deep worship on Saturday evenings, but we get to enjoy Sunday with our families and friends and really wind down for the week-end." One community member said, "Of course, the goal of our church in Denver is to live in the way of Christ every day, so 7 days a week we are trying to serve each other and others in our community. Jesus didn't ask us to think about him one day a week, but to follow his way in every aspect of our lives with everyone we come in contact with. Not to 'preach' to others, but to love others as God loves us. Most people would rather be loved than preached at."
About Restoration Community Church: Restoration Community Church is a new Denver church that is focused on serving. The mission of Restoration is to worship God, grow together and serve the world. This is the foundation for everything we do. People in all stages of their faith are welcome to our Church in Denver; Restoration Community Church.
###