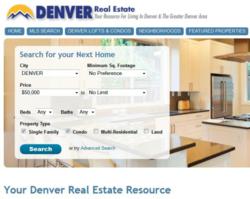 A more useful and accurate home finding experience for our customers
Denver, CO (PRWEB) April 30, 2013
New Era Realty has revamped their website Denvers-Real-Estate.com to further aid individuals and families with the process of looking for real estate. "By combining deep content and key search metrics, we are able to provide a more useful and accurate home finding experience for our customers," commented John Stegner, New Era Realty. With more refined search options, users can pick and choose according to their needs and desires.
Traditional property search websites can be limited by area or property types, but the New Era Realty system goes beyond the typical settings. "We feel it is important to give our clients as much information as they want. It earns trust in us and creates a positive experience," added John. The improved system also allows prospective buyers to search by the normal delineators such as price, location and number of bedrooms, but also inspires a more refined and detailed query. People can search by lot sizes, school districts, short sales, foreclosures, or if the property has a mountain view.
In addition, New Era Realty has expanded their Denver neighborhoods section of the website providing more information about the Metro Area. "We realize that people new to Denver want to know the historical information and entertainment options. We are receiving favorable reviews from our visitors from out of state visitors looking to move to the Denver Area, " concluded John Stegner. The website breaks out neighborhoods and surrounding cities to give buyers crucial information that will help them make the right home buying decision for themselves or their family.
About New Era Realty
New Era Realty is a professional partnership of Denver area natives with a goal to highlight and promote the Denver metro and the Colorado lifestyle. Their love for their city and the Rocky Mountains drives a desire to bring more people to the area and help their hometown thrive. New Era Realtors have a strong commitment to values and integrity within the real estate market and continually strive to bring the most up-to-date technologically advanced solutions to aid their customers.
For more information about New Era Realty in Denver, visit: http://www.denvers-real-estate.com.