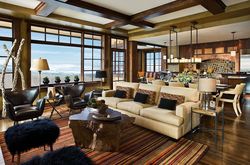 That philosophy has set a benchmark in the industry.
Denver, Colo. (PRWEB) February 9, 2009
Andrea Lawrence Wood, Chief Designer and Founder of Interior Design Development, LLC, announced Wednesday the launch of a new Web site for her Denver-based interior design and interior architecture firm.
The new Web site, http://www.interiordesigndevelopment.com/, showcases the first public unveiling of Wood's newest interior design firm that specifically targets private residence clubs and fractional ownership units undergoing conversion to profitable, income-generating rental units. Coming at a time when hospitality industry belts have tightened, Wood anticipates a groundswell of interest in affordable, yet stylish hospitality design in companion with interest in green development.
The site also highlights hospitality industry projects Wood has designed throughout the course of her 26-year career, as well as luxury private residences largely in resort towns in the Rocky Mountains--Utah, Colorado and Wyoming--and desert communities of Arizona.
For decades Wood has been regarded as the go-to designer for the highest end luxury residences and hospitality venues in the Western United States. Owners would spare no expense on imported and handcrafted furniture to old-world wall finishes, hand-forged lighting fixtures and reclaimed wood timbers and flooring.
"While select individuals remain recession-proof, the majority of us are affected by today's economic challenges," Wood said. "The wealthy have always been conscientious of their discretionary spending, not tolerating waste. The boards of premier hospitality destinations are on notice that all construction and remodeling expenditures will be scrutinized.
"This reality is the very reason Interior Design Development has invested time into sourcing cost-conscious furniture, accessories and tradesmen with distinctive style for less. It's about being discerning with an eye on budgets."
Interior Design Development is currently working on projects for East West Partners at The Village at Empire Pass Village, located near Deer Valley, Utah, and on the construction of two luxury single-family spec homes in Aspen, Colo.
Wood's pledge to clients - personal participation at every level of all Interior Design Development projects - ensures attentive communication and rewarding results.
"Our commitment is to always integrate the owner, developer, contractor, designer and architect into a cohesive design team," Wood said. "That philosophy has set a benchmark in the industry."
Wood's previous work includes The Montelucia Resort and Spa in Paradise Valley, Ariz. and The Rock Resort's Avanyu Spa in the Lodge at Vai l in Vail, Colo. Wood has also worked on projects in Los Angeles, Beverly Hills and Santa Barbara, Calif., and has directed the interior design departments of two well-known architectural firms. Her design expertise has been applied to residences with average square-footage building costs of $500 to $1,200.
Wood holds a Bachelor of Fine Arts in Interior Design from the Interior Design Institute in Denver. Among her many leadership roles, she was chairman of the Design Council for the Department of Architecture, Design and Graphics for the Denver Art Museum. She has been named to the Denver Business Journal's 50 Top Women-Owned Businesses for more than a decade. Wood serves on the Design Advisory Board for Benjamin Moore Paints and on the Academic Advisory Board for The Art Institute of Colorado.
###