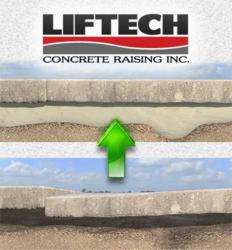 Customers love the finished product, as well as having the peace of mind knowing that the lifting agent is eco-friendly,
Littleton, Colorado (PRWEB) June 28, 2013
Liftech Corporation's advanced alternative to mudjacking is proving itself as a cost effective and long lasting technique while boosting company growth by 75%. With many advantages over traditional methods of raising, leveling and stabilizing concrete platforms polyurethane is quickly becoming the mudjacking replacement as the preferred method to quickly and efficiently resolve concrete issues.
The Denver Metro Area has unique soil conditions that cause havoc with traditional applications utilizing water, sand and cement. The diverse nature of the soil in the mountain region decrease the life expectancy of traditional mudjacking slurry mixtures, while the method requires near pop-can sized holes to be drilled in the surface. In addition, the average weight of 100-110 pounds per cubic foot often aggravates the very problem contractors are attempting to fix.
Polyurethane concrete raising, also known as slab jacking, is revolutionizing the industry. "Having successfully completed many jobs in the Denver area, we have perfected our technique and mixture to work ideally with the different soils and substrates in the region," commented Darren Crotchett, owner, Liftech Corporation. Polyurethane raising techniques require drilling small, dime sized holes, which are less conspicuous than former methods. The fill material weighs only two pounds per cubic foot and is fully cured in 15 minutes, offering a fast and more permanent solution.
"Customers love the finished product, as well as having the peace of mind knowing that the lifting agent is eco-friendly and will stand the test of time," added Crotchett. Liftech uses 100% recycled polyurethane materials utilizing renewable based bio-polyols derived from vegetables. Utilizing this method also extends the life of the concrete reducing emissions and waste generated from breaking up, hauling off and disposing of old concrete. "The use of this material is offering consumers a safe and eco-friendly solution that also provides superior results," concluded Crotchett.
About Liftech Corporation
Liftech Corporation is an industry leader in restoring, lifting and leveling concrete in residential, commercial and municipal applications. As members of the Home Builders Association and the Better Business Bureau, Liftech is dedicated to bringing the most technologically advanced solutions to homeowners and contractors in the Denver area.
For more information about Liftech Corporation and polyurethane mudjacking visit: http://www.liftmyconcrete.com