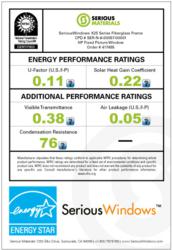 We searched the entire country to find that high SHGC window replacement for Denver, and the guys who did the 6500 energy-saving windows at the Empire State Building are right in our back yard
Denver, CO (PRWEB) April 24, 2012
A leading energy contractor in the Denver area has recently completed a unique platform as a one-stop-shop for residential and small commercial energy savings. With the addition of high Solar-Heat-Gain Coefficient (SHGC) replacement windows in Denver, Stellar Windows and Insulation is now able to recommend replacement windows as an energy saving product. Since utility costs in Colorado are predominantly for heating, the high SHGC replacement windows will be used on southern sides of the house for passive heat in winter. Historically, Denver window installers have used low SHGC windows on the south exposure which unintentionally raised customers overall utility bills.
Glass choice is critical to the concept of directionally tuning replacement windows and to optimize solar heating control. The factors of azimuth, overhangs, window coverings, lot shading, building orientation and HVAC systems all go into selection of the glass package for each window. Due to the complicated nature of the window selection process Mike Mendes, the General Manager of the window replacement division, has 10 years experience in both the window and solar industries. He uses tools of the solar installers, PVWATTS and Solar Pathfinders, to determine solar insolation at any window so that cost, comfort, and energy savings can be optimized window by window.
To achieve this level of customization Stellar relies on SeriousWindows, of Boulder Colorado, whose manufacturing plant has been producing super-insulating replacement windows for almost 30 years. "We searched the entire country to find that high SHGC window replacement for Denver," says Mendes, "and the guys who did the 6500 energy-saving windows at the Empire State Building are right in our back yard!"
Stellar Windows and Insulation is a division of Stellar Energy Contractors. Their mission is to be the leading contractor in each of the specialty trades (energy audits, roofing, solar thermal and PV, windows, insulation, electrical, and HVAC) that affect energy usage in residential and small commercial buildings. Stellar Windows and Insulation was the General Contractor and installed the insulation for Denver's Xcel Home Makeover contest winner in 2011. They are a BPI Accredited Contractors and top-5-producer of Home Performance with Energy Star (HPwES) in Colorado in 2011.
Stellar Windows and Insulation can be reached at:
4020 Youngfield Street
Wheat Ridge, CO 80033
(303) 495-5318
http://www.energy-contractors.com
office(at)energycontractors(dot)com