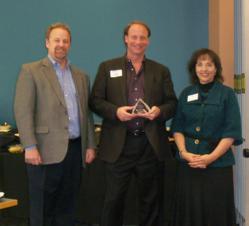 We exceeded all goals, thanks in large part to the excellent work Webolutions provided
Denver, CO (PRWEB) January 31, 2012
On Friday, January 27, 2012, the South Metro Denver Small Business Development Center recognized Webolutions® as its 2011 Corporate Sponsor of the Year. Webolutions CEO John Vachalek also received a Certificate of Appreciation from the organization.
"Webolutions was chosen because of its tremendous contributions to our website design and development initiative in 2011," said South Metro Denver SBDC Executive Director Marcia McGilley. "We exceeded all goals, thanks in large part to the excellent work Webolutions provided."
The South Metro Denver SBDC achieved 223 percent of its goal for Job Creation, 225 percent of its goal for Job Retention and 111 percent of its goal for Business Starts. It lists the website, blog and social media among additional highlighted achievements. The Center's measureable business impact in 2011 was over $60 Million.
"Since the inception of the South Metro Denver Small Business Development Center," said Vachalek, "Webolutions has been proud to support this group by providing guidance, leading workshops and providing their online presence, including their eNewsletter, blog, social media marketing tools, search engine optimization and web hosting. One of the primary driving factors to this organization's success is that they have scored #1 on Google under the search term, 'Small Business Denver' for several years. Webolutions is proud to have the opportunity to work with such a great group of people and participate in the overall advancement of business climate in our community."
About Webolutions
Webolutions is a privately owned strategic marketing agency, leading in Internet marketing since 1994. Recognized by the Denver Business Journal every year since 2002 as a Top Web Designer/Developer and in 2009 as Denver's Best Place to Work, the company's 2011 awards included a Davey Award for Website Design and a Merit Award for Web Site Marketing. Please contact Mike Hanbery, (303) 300-2640, mhanbery(at)webolutions(dot)com.
###