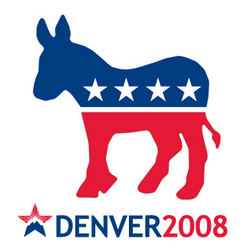 Denver, CO (PRWEB) August 6, 2008
Take the free airport shuttle to a Denver Airport Center hotel; rent a car or van at the front desk; relax -- then pick it up at the front door! A ploy used by some of the world's smartest travelers -- who fly into Denver to see Colorado by car -- is now offered as the smartest last-minute deal for those attending the Democratic National Convention, August 25-28, 2008 in Denver, Colo.
The hassle-free travel strategy is especially attractive to "VFR" visitors, the ones "Visiting Friends and Relatives" -- either coming in early before the convention or staying a little while longer after the mad rush to leave Denver is over.
The new rental cars and vans are provided by Denver newcomer AmeriCar, and include standard to luxury cars for hitting all the convention parties in Denver and nearby mansions and ranches, as well as rugged SUVs for those road trip adventures that Colorado is famous for around the world.
Participating Denver Aiport hotels at the Denver Airport Center include: the Holiday Inn Express Denver, the Ramada Inn Denver, and the Days Inn Denver.
All year long, since the Denver Airport Center launched AmeriCar, travelers have avoided the long lines at the airport and at the regular car rental agencies, and instead have used AmeriCar's hassle-free travel solution. The same step-by-step is recommended for DNC attendees.
First, at the airport baggage claim, call AmeriCar or one of the participating hotels and request the free airport shuttle to the Denver Airport Center, the hotel group closest to Denver International Airport (DIA).
Second, once at the front desk of the hotel, check in. Or rent a car. Or do both.
Third, relax. Enjoy some free coffee, free WiFi Internet, a dip in the pool, some time in the gym or business center. When you're ready to go, pick up your car at the front door. Welcome to the new world of valet car rental service.
As Colorado Tourism Ambassadors, the Denver Airport Center hotels offer a free 216-page color travel guide, the "Official State Vacation Guide," to all travelers, with extra advice on avoiding traffic congestion during the convention.
Road trip specialists are also on hand with suggestions, checklists, and help with getting visitors ready for Colorado excursions that can include adventures in rafting, ballooning, rodeo, fishing, hiking, camping, hunting, and cultural tourism.
Here is their list of the Top 25 Most Spectacular Colorado Road Trips:
Four-Wheel-Drive Road Trips:

Alpine Loop (Southwest) 63 miles - 7 hours
Gold Belt Tour (South Central) 113 miles - 5 hours
Monster Road Trip:

Dinosaur Diamond (Northwest) 486 miles - 2-3 days
Rugged Road Trips:

San Juan Skyway (southwest) 236 miles - 7 hours
West Elk Loop (Southwest/Northwest) 205 miles - 7 hours
Santa Fe Trail (Southeast) 186 miles - 4 hours
Frontier Pathways (Southeast/South Central) 103 miles - 4 hours
Leisurely Road Trips:

Unaweep-Tabeguache (Southwest) 133 miles - 3 hours
Los Caminos Antiguos (South Central) 129 miles - 3 hours
Pawnee Pioneer Trails (Northeast) 128 miles - 3 hours
Silver Thread (South Central/Southwest) 117 miles - 3 hours
Trail of the Ancients (Southwest) 116 miles - 3 hours
Cache la Poudre-North Park (Front Range/Northwest) 101 miles - 3 hours
Flat Tops Trail (Northwest) 82 miles - 3 hours
Colorado River Headwaters (Northwest) 80 miles - 3 hours
Short Road Trips:

Highway of Legends (Southeast) 82 miles - 2 hours
Top of the Rockies (South Central) 82 miles - 2 hours
Grand Mesa (Northwest/Southwest) 63 miles - 2 hours
Collegiate Peaks (South Central) 57 miles - 2 hours
Peak to Peak (Front Range) 55 miles - 2 hours
Mount Evans (Front Range) 49 miles - 2 hours
Trail Ridge Road (Front Range/Northwest) 48 miles - 2 hours
Lariat Loop (Denver/Front 40 miles - 2 hours
Mini Road Trips:

Guanella Pass (Front Range) 22 miles - 1 hour
South Platte River Trail (Northeast) 19 miles - 1 hour
The Denver Airport Center is Colorado's gateway for arriving and departing travelers. It is the starting point for visitors interested in seeing Colorado who fly in from feeder markets such as Boston, New York, Washington, DC, Atlanta, San Diego, Los Angeles, San Francisco, and major cities around the world.
The overall goal of the Denver Airport Center is to increase business travel and tourism revenues and economic benefit within Colorado through exceptional travel experiences and visitor services. Its Partner Program is designed as a central resource to enable members to develop, deliver, and evaluate outstanding programs that will attract business travel and tourism to the state.
Those interested in taking advantage of the DNC car rental opportunity are invited to visit DenverAirportCenter.com/americar and call the listed contact numbers -- sooner rather than later.
Related story:
Denver Airport Hotel and Conference Center Launches Partner Program
###