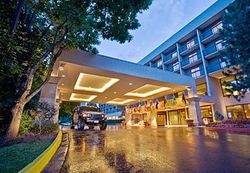 Denver, CO (PRWEB) March 23, 2010
AAA members can receive travel discounts when they book the AAA Mountain Escape Package at the Denver Marriott Tech Center. This Denver Hotel package includes reduced room rates and free food. In addition, their accommodations will place travelers close to some of the top attractions in the area.
The AAA Mountain Escape Package includes:

5 to 15% discount off all weekend rates
Breakfast, lunch or dinner for kids under 12 when accompanied by an adult
Guestroom located near top area attractions
The free kids' meal can be ordered from the children's menu at an onsite restaurant. An adult entrée must be purchased from the regular menu in order to redeem the free children's meal.
In addition to the free meal and discounted rates, guests at hotel near Greenwood Village can take advantage of the hotel's close proximity to area attractions. Colorado Springs is a favorite for tourists and is located near the hotel. Colorado Springs has lots of fun things for travelers to do and see. Vacationers can go to Pikes Peak or one of the museums. There are also restaurants and shopping areas located in Colorado Springs.
Those who book the AAA package will also be close to the Cherry Creek shopping district. Along with a wide variety of shops, people can go to art galleries, go out to dinner or attend one of the many events located in the district.
Rates for the AAA Mountain Escape Package are from $89-$139. The offer is valid through June 30, 2010. Promotional code AAZ must appear in the Corporate/Promotional Code box when ordering online.
For more information about the Denver Marriott Tech Center, visit Marriott.com or call 1-303-779-1100.
About the Denver Marriott Tech Center
The Denver Marriott Tech Center is an ENERGY STAR® hotel that provides the perfect combination of amenities for business and pleasure. With state of the art meeting space and work areas in the guestrooms, travelers are able to get down to business. The hotel also provides luxurious bedding, in room entertainment options, onsite restaurants and two pools so guests can unwind and have fun. Business and pleasure travelers find exactly what they are looking for when they stay at the Denver Marriott Tech Center.
###