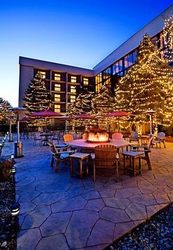 Denver, CO (PRWEB) March 23, 2010
The Denver Marriott Tech Center is making it easier for couples to go away on a romantic vacation with exciting new Denver, CO, hotel vacation packages. For a limited time, the hotel is offering the Romance Package, which provides travelers with everything they need for a romantic getaway.
The Romance Package includes:

Deluxe guestroom with one king or two double beds
Champagne or sparkling cider upon arrival
Chocolate covered strawberries upon arrival
Breakfast for two guests in the onsite restaurant or through room service
After couples arrive at the Denver Marriott Tech Center, they are encouraged to make use of activities and amenities available at the hotel. The guestrooms come with in-room entertainment options, a sitting area, luxurious bedding and other amenities.
Travelers can leave their guestrooms and take a swim in the indoor or outdoor pool. After taking a dip in the pool, couples can use the whirlpool. They can also visit the onsite spa and receive one of the available treatments. The spa offers manicures, pedicures, footbaths, paraffin hand treatments and waxing.
Couples can also venture off the hotel's grounds and enjoy a romantic evening out on the town. According to hotel staff, Shanahan's Steakhouse is one of the most popular destinations for couples. This top tier steakhouse is known for its elegant atmosphere and large selection of food. Located just a block from the Marriott, the restaurant serves steak, fish and cocktails in a romantic setting.
Rates for the Romance Package are from $109-$149. The offer is valid through May 31, 2010 and is available for rooms booked Thursday through Sunday. Promotional code LVU must appear in the Corporate/Promotional Code box when ordering online.
For more information about the Denver Marriott Tech Center, visit Marriott.com or call 1-303-779-1100.
About the Denver Marriott Tech Center
The Denver Marriott Tech Center has everything guests need for a romantic and relaxing vacation. With onsite restaurants, comfortable guestrooms, two swimming pools and a spa, vacationers can easily find something to do at the Marriott. In addition, the hotel is close to the biggest area attractions, including Colorado Springs, Pikes Peak and the Cherry Creek Shopping District. Guests can book one of the Marriott's Denver hotel packages and enjoy the hotel and the area attractions.
# # #