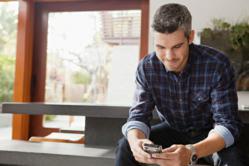 "Denver businesses are starting to use mobile marketing more and more and they realize that is where their customers needs are shifting." say Kilberg
Denver, CO (PRWEB) October 30, 2012
According a recent study conducted by comScore, which tracks technology, media and marketing trends, consumers are now more likely to visit a businesses web site, view offers or decide to shop with a particular business through the use of their mobile phone, but thanks to a company called SKRP Media, local businesses will now be able to have all of their mobile marketing campaigns done for them.
"Due to the current economy and overall fierce competition, businesses need to realize that all of their customers are using their mobile phones every day," said Steve Kilberg, CEO of SKRP Media.
In fact, the study, which was released in comScore's annual report, revealed that 47.6 percent of mobile subscribers used apps, up 13.3 percentage points from 34.3 percent in December 2010.
The report also pointed out that 47.5 percent of mobile subscribers used mobile browsers, which is up 11.1 percentage points from 36.4 percent.
"Because of this, businesses need to use tools that can instantly reach in their prospective and current customers literally in their hand and pull them into their place of business," Kilberg said, before adding, "We provide mobile marketing services specifically for small to medium size service businesses in the Denver area."
SKRP Media's offer to provide done-for-you mobile marketing services for local businesses could prove to have perfect timing.
An additional trend that comScore's study revealed is that across various mobile activities, Americans and Canadians were most likely to access social networking sites or blogs via mobile devices, with 35.3 percent and 31.2 percent doing so, respectively, as of December.
Kilberg went on to note several advantages that business have by employing mobile marketing strategies and tools to reach customers.
"Ninety-five to 98 percent of text messages are read within minutes of receipt, which means that you're able to reach your customers instantly," Kilberg said. "Eighty-six percent of consumers send or receive a text message every week, nearly 30 percent of US households no longer own a land line (as of summer 2011) and mobile coupons are 10 times more likely to be redeemed than traditional coupons."
In an effort to encourage Denver businesses to learn more about how to benefit from adding mobile marketing strategies to their overall marketing and sales funnel, Kilberg said his company offers a free one hour mobile marketing consultation.
As to why Denver businesses should use SKRP Media for their mobile marketing needs, Kilberg said, "We empower them with low cost tools that allow them to communicate with their current or prospective customers on devices they are using every day."