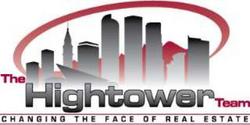 Despite the slower real estate market, our team sold a combined 198 units in Colorado and Las Vegas
Denver, CO (Vocus) July 13, 2010
The Hightower Team, a Denver real estate agency, is being honored for their excellence in sales and service in 2009.
The Hightower Team, now at the Denver Tech Center Office, has been among the top Denver Real Estate Agents in the Colorado Region for the past six years. The Team also joined the Las Vegas office of Keller Williams and began selling REO (bank-owned properties) there in January 2009. The Hightower Team ranked second in 2009 among Realtors at the Denver Tech Center Office.
"Despite the slower real estate market, our team sold a combined 198 units in Colorado and Las Vegas," says Travis Hightower, owner/broker associate for The Hightower Team. "This equates to more than $34 million in sales last year and more than $90 million since 2005.
"We attribute much of our success to the systems and models that we have learned through being a part of Keller Williams," Hightower continues. "The company provides excellent support and resources to help us continue to grow our team and service our clients. The other reason for our success is because we have a dynamite group of people who work on The Hightower Team. Our team is focused on providing exceptional customer service and ensuring that everyone has a positive experience when working with us."
With more than 76,000 agents and 668 franchised Market Centers, Keller Williams Realty International is now America's third-largest and fastest-growing residential real estate company. Keller Williams Realty franchised the Colorado Region in 1993 and has succeeded by creating a unique agent-focused model that builds partnerships between agents and local ownership through participation in a life-long, profit sharing program.
About The Hightower Team – the Hightower Team operates under the Keller Williams Realty umbrella. The team strives to meet their clients needs by providing professional service that revolves around the client. When you work with the Hightower Team, you're not jut working with an agent, you are partnering with one of Denver's top real estate teams. Visit the Hightower Team online and search the Denver MLS, or call today and see why the Hightower Team continues to achieve outstanding results for their clients.
The Hightower Team
6300 S. Syracuse Way, Suite 150
Englewood, CO 80111-2417
Phone: 303-325-5020
Mobile: 303-475-3351
Fax: 303-325-5861
# # #