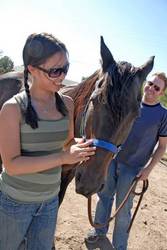 Denver, CO (PRWEB) October 17, 2007
Rich Harris, of The Harris Law Firm, knows that being a part of a successful community means staying involved with local issues and organizations.
Because of Rich's altruistic values and his passion for helping others, his attorneys and staff have also made a commitment to give back to the community and help transform the world around them.
For their company volunteer outing this season, the family law attorneys and staff at The Harris Law Firm chose the Horse Protection League as the recipient of their efforts.
The Horse Protection League is an all-volunteer run, non-profit organization dedicated to the welfare of horses, ponies, donkeys and mules in the greater Rocky Mountain Region.
It's not surprising that this team of attorneys and staff dedicated to the protection of children and child custody issues would seek out a caring agency dedicated to protecting those that can also not protect themselves - horses.
Through their volunteer efforts, many members of the Harris Law Firm experienced being around horses for the first time.
Being in the pleasant company of these beautiful equines and spending the day assisting in their care and feeding was a team event that inspired them all.
The team of family law attorneys and staff at the Denver family law firm wishes they were able to buck hay, muck stalls, mend fences and groom horses every weekend, but they have found other ways to stay involved and offer support and assistance to the Horse Protection League.
The Harris Law Firm sponsors the Horse Protection League's quarterly newsletter, and sends monthly support for one of the agency's senior horses.
Rich Harris and the members of The Harris Law Firm view their involvement with the Horse Protection League as one of the many ways they have found to give back and make a difference in their community.
About The Harris Law Firm
Established in 1993, The Harris Law Firm is one of Denver's largest family law firms and employs a team of 12 skilled attorneys. In 2007, for the second consecutive year, founding partner Richard A. Harris was named a Colorado Super Lawyer. Super Lawyers are considered leading attorneys in the area of law in which they practice, and are selected via a survey of the state's top lawyers by Law & Politics Magazine.
In addition to divorce and child custody and support issues in Denver, The Harris Law Firm also handles step parent adoptions, marital agreements, and issues regarding maintenance, paternity, and grandparents' rights.
For more information on The Harris Law Firm, including articles written by the family law attorneys, please visit our Web site: http://www.harrisfamilylaw.com
The Harris Law Firm P.C.
1125 17th Street, Suite 1820
Denver, CO 80202
Phone: 303.299.9484
Fax: 303.299.9554
###