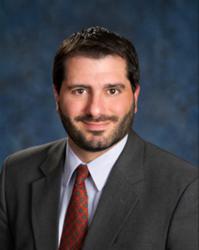 The attorney at Tiftickjian Law Firm has made a specialty out of DUI defense
Denver, CO (PRWEB) July 10, 2012
Law Week Colorado named Denver DUI attorney Jay Tiftickjian its Compleat Lawyer for 2012. Mr. Tiftickjian joined six other of the best attorneys in Colorado on the cover of the June 25 edition of the weekly legal publication. The Compleat Lawyer award is given to attorneys that Law Week deems "the whole package," or otherwise put by the editors, "the equivalent of a modern day renaissance personality."
The editors at Law Week Colorado Magazine deemed Jay Tiftickjian, of Tiftickjian Law Firm, an attorney "who not just excels at [his] area of legal expertise, but generates business, promotes [his] firm's values, stays on top of the current trends and has a personality that dazzles." In the cover story, Law Week noted that "[t]he attorney at Tiftickjian Law Firm has made a specialty out of DUI defense" in Colorado. The article describes how Mr. Tiftickjian holds seminars on DUI defense to educate his fellow criminal defense lawyers in Colorado, and how he has received advanced DUI blood testing skills through his training at Axion Labs in Chicago and his association with the National College for DUI Defense.
The article describes the transition Mr. Tiftickjian had in his climb to the top of the mountain in Colorado. He graduated from the University of New York at Buffalo and moved to Colorado in 2002. He was a deputy district attorney in Adams County, Colorado for two years before leaving for private practice, and primarily DUI defense. Mr. Tiftickjian has been recognized by Martindale-Hubbell, Super Lawyers, and the National Trial Lawyers Association for his efforts and reputation in the legal community.
Jay Tiftickjian is the Principal attorney at Tiftickjian Law Firm. Tiftickjian Law Firm has offices in Denver and Aspen, and services the Colorado counties of Adams, Arapahoe, Boulder, Broomfield, Chaffee, Clear Creek, Denver, Douglas, Eagle, Elbert, El Paso, Garfield, Gilpin, Grand, Jefferson, Kiowa, Lake, Larimer, Lincoln, Logan, Moffat, Park, Pitkin (Aspen), Routt, Summit, and Weld.