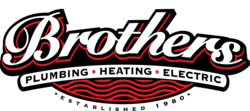 The new 90% efficiency units are definitely better for the environment but we understand that for many families cost is the primary concern
Denver, CO (PRWEB) October 18, 2012
Denver furnace repair, installation and replacement experts at Brothers Plumbing & Heating are encouraging people who are considering installing an 80% AFUE Model Furnace to act fast. New Federal Energy Star Requirements mandate that after 05/01/2013 only 90% efficiency furnaces can be installed in Colorado. This means that all Denver furnace installation and replacement contractors will be required to install the new type of furnace which is more expensive. 90% efficiency furnaces emit water vapor along with CO2 which would rust the existing flue, so a special PVC flue must be installed along with the new furnace. "The new 90% efficiency units are definitely better for the environment but we understand that for many families cost is the primary concern. The 80% efficiency models are very efficient and a Denver furnace installation using the 80% models is less expensive," says Lynn of Brothers Plumbing & Heating.
Denver heating service and furnace experts at Brothers Plumbing & Heating say there are several key things that make replacing and 80% efficiency furnace with a 90% efficiency furnace more expensive. "One of the key things is that the new furnace will require a vent system that is able to deal with moisture that is created by extracting so much heat from the flue gas. The old vent system is vented in metal vent and then typically terminates through the middle of the house and then out through the roof. The new system is vented in PVC pipe which can handle the moisture and now vents typically out the side of the house. This can be very challenging if basements are finished. A new venting solution will have to be determined if upgrading to a newer, higher efficient, furnace. This will sometimes mean creating soffits, removing drywall and other costly expense's to install the two 4 inch plastic pipes to the side of the home," says John Hicks, HVAC Service Manager at Brothers Plumbing & Heating.
Brothers Plumbing & Heating is a full service HVAC contractor. They have been providing Denver heating service for over 30 years. "Our primary concern is customer satisfaction. We know that people want to make an informed decision when it comes to choosing their Denver heating service contractor and the type of furnace they put in their home. We provide our customers with the most up to date information so they can make the best decision for their situation," says Lynn.
To learn more about Brothers Plumbing & Heating please visit their website, watch their informative online videos, read their press releases or see their many positive online Denver plumbers service & heating reviews on trusted consumer review sites.
Brothers Plumbing & Heating
12249 Pennsylvania Street
Thornton, CO 80241‎
Phone (303) 451-5057