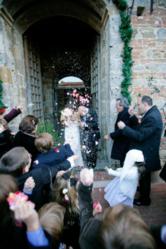 What is great about DG Protect is it's a win-win for everyone involved - Elizabeth Slossberg, Owner of EKS Events, Aspen, CO
Austin, TX (PRWEB) June 30, 2011
Imagine spending ten months preparing for one of life's biggest events – only to discover four days before the wedding the owner of the reception location has been forced to close the doors due to bankruptcy. Not only does that lead to a frantic search at the last minute to find an alternative location, but there is also no way of recovering the hefty deposit submitted six months earlier to secure the venue and date. That is exactly what happened recently to a handful of brides in Atlanta, GA and has happened to many others around the country more often than one would like to believe.
This is why many brides and event planners are choosing to use DG Protect, a system for holding and protecting deposits in a neutral 3rd party account. "What is great about DG Protect is it's a win-win for everyone involved. My client can make payments as planned, however the funds are not released to the vendor until the event takes place or actual costs are incurred. The vendor is a party to the agreement, and unless they do not provide the service they have agreed to provide, they are guaranteed payment as planned. Both parties have access to view the account and confirm that funds are in place to pay for the service. Plus, the process is seamless and has removed my burden of making payments to vendors on behalf of my clients," says Elizabeth Slossberg, owner of EKS Events in Aspen, CO. She went on to add, "It has been especially helpful in cases where venues, such as hotels or reception locations, are requiring a very large, six figure deposit more than a year in advance. Who is to say that hotel will still be in business a year from now?"
In this day and age, anything has and is bound to happen, which is why DG Protect has timed its entry into the market perfectly. "Unfortunately, the down economy has affected many businesses, both small and large, and this type of protection is necessary now more than ever," says Alan Lane, Co-Founder and Director of Business Development for DG Protect. Gone are the days of hand-shake deals. Even a written contract doesn't guarantee that your deposit will be returned to you. Yes, you might be entitled to it, but if the hotel or venue has been sold, foreclosed on or filed bankruptcy, the likelihood of getting your deposit back is very slim, if at all.
Amy Abbott of Amy Abbott Events in San Jose del Cabo, Mexico recommends DG Protect to her clients to help ease the process of making international payments. "Recently I was working with a client that was faced with seven international wire transfers to pay various venders in San Jose del Cabo. DG Protect's easy to use system allowed the bride to make one easy payment into her DG Protect account, and then set up the appropriate payments to each of the vendors on specified dates. It was so simple and seamless."
To learn more about how DG Protect can help in the planning of a wedding or special event, please visit our website at http://www.dgprotect.com or call us at 877-878-7860.
# # #