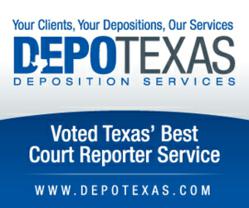 Ak-Ret's reputation for quality court reporting and customer service is a logical compliment to our core deposition services business
Corpus Christi, Texas (PRWEB) January 04, 2012
DepoTexas, a leading provider of deposition and litigation services in Texas, announced today that it has completed the acquisition of Ak-Ret Reporting, Records & Video Inc., a premier court reporting firm with offices in Corpus Christi.
"Ak-Ret's reputation for quality court reporting and customer service is a logical compliment to our core deposition services business," said Michael Clepper, Chief Executive Officer of DepoTexas. "We are enhancing the strengths of two market leaders into one unparalleled service portfolio that is uniquely poised to serve our clients' individual litigation support requirements."
DepoTexas has significantly expanded its presence in Texas over last ten years. By uniting with Ak-Ret the combined Company will benefit from increased scale, resources and growth opportunities to achieve its vision of being the most trusted court reporting industry leader.
"The merging of our two long-established businesses is truly exciting," said Ginny McCluskey, Owner of Ak-Ret Reporting, Records & Video Inc. "By leveraging the strength of our collective market capabilities, we are now best positioned to address growing deposition and litigation service demands in Corpus Christi and across South Texas."
About DepoTexas
Since 1987, DepoTexas has provided fast, accurate and reliable court reporting and legal video services to the legal community. As the leading privately held deposition and litigation services firm in Texas, the Company is headquartered in Houston with six additional fully staffed office locations throughout the state. The Company is known for its industry knowledge, technology leadership, and professionalism. Clients count on DepoTexas to help them better manage their caseloads and strengthen their productivity. DepoTexas was recently voted Texas' Best Court Reporting Service by Texas Lawyer Magazine readers. For more information, visit http://www.depotexas.com.
Contact:
DepoTexas
Andrea Abramson
888.893.3767
# # #