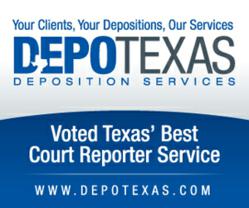 This transaction merges two of San Antonio's most respected court reporting firms
San Antonio, Texas (PRWEB) January 09, 2012
DepoTexas, the award winning deposition services and litigation support firm, announced today that it has completed a merger with Eddie Morris Court Reporters, Inc. Founded in 1965, Eddie Morris Court Reporters has served the San Antonio legal community with a strong standard of excellence and tradition of service.
"This transaction merges two of San Antonio's most respected court reporting firms," said Michael Clepper, Chief Executive Officer of DepoTexas. "We are delighted to be working with a group of professionals equally committed to delivering world class court reporting and customer service".
The integration of Eddie Morris Court Reporters solidifies DepoTexas' position as the leading provider of court reporting services for the San Antonio legal community. It also extends the Company's innovative production practices and technology solutions to a broader group of industry professionals empowering them to improve their efficiency and support their long-term success.
"Hard work over the last forty-six years has brought us to this exciting time," said Shan Morris Blanchard, owner of Eddie Morris Court Reporters. "Today we bring together both experienced companies to create one leading provider of deposition and litigation services for San Antonio."
About DepoTexas
Since 1987, DepoTexas has provided fast, accurate and reliable court reporting and legal video services to the legal community. As the leading privately held deposition and litigation services firm in Texas, the Company is headquartered in Houston with six additional fully staffed office locations throughout the state. The Company is known for its industry knowledge, technology leadership, and professionalism. Clients count on DepoTexas to help them better manage their caseloads and strengthen their productivity. DepoTexas was recently voted Texas' Best Court Reporting Service by Texas Lawyer Magazine readers. For more information, visit http://www.depotexas.com
Contact
DepoTexas
Andrea Abramson
888.893.3767
###