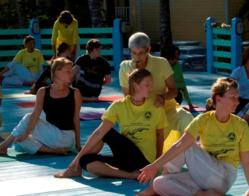 The depression retreat was a fabulous way to let go of stuck emotions are take a new outlook on my life.
San Francisco, CA (PRWEB) June 17, 2013
The program, titled Yoga and Aromatherapy to Relieve Stress, Anxiety and Depression will be offered from June 17-21, 2013 and is presented by Aira Guevara (Rukmini).
During the depression retreat program, students will learn how to use powerful and healing essential oils to promote relaxation, calm the mind, and release blockages. During hands-on session consisting of theory and practice, students will learn easy and simple techniques that can be practiced at home, work or any time needed. They will learn the traditional inhalation of the oil, how to make a spray and simple home uses (baths, massage oils, simple diffusing techniques), and the effects of the oils in the brain and the body. All of this is paired with asanas, pranayamas, mudras, and energetic exercises to heal stress, anxiety, depression, and insomnia. Participants will make their own aromatherapy eye pillow and will sample essential oils for each condition. Each workshop ends with a deep relaxation session.
Rukmini (Aira Guevara) is a Sivananda yoga teacher with a special interest in integrating the healing power of essential oils with the practice of yoga to counteract stress, anxiety, and depression. As a research journalist and editor, she has dedicated over a decade to study and practice the effects and benefits of aromatherapy, devising a synergistic method that she shares in workshops in the United States, with remarkable healing results.
The Sivananda Ashram Yoga Retreat provides an immersion experience into the daily practices of a yogic lifestyle. More than just a yoga center, the Yoga Retreat offers teachings derived from the deeply-rooted Hatha Yoga traditions of a renowned lineage. All of the Ashram practices are geared toward the development of inner peace for a more harmonious world. Established by Swami Vishnudevananda in the name of Master Swami Sivananda, the Ashram presents a balanced experience of Raja Yoga, Karma Yoga, Bhakti Yoga and Jnana Yoga. The daily schedule includes meditation, pranayama (yogic breathing practices), asana (yoga postures) and study.
Located across the bay from Nassau, on one of the finest beaches in the world, the Sivananda Ashram Yoga Retreat is an island paradise with a tropical garden, crystal clear water and pure white sands - a true sanctuary of peace and natural beauty. Recognized among world Yoga Retreats, the ashram offers year-round programs presented by world renowned speakers, as well as certification courses on various yoga related topics through which you can expand your knowledge, gain a new skill and get certified while enjoying a joyous yoga practice and blissful relaxation. The retreat center also offers year-round Yoga teacher training programs and ayurveda retreats
For more information on how to become a yoga instructor, please contact the Sivananda Ashram Yoga Retreat at sivanandabahamas.org or call 1-866-446-5934.