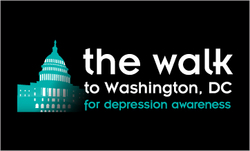 With the help of 4ORCE, we have been able to reach so many more people than we thought possible.
Saint Louis, MO (PRWEB) May 26, 2010
In honor of May being Mental Health Awareness Month, the award-winning interactive advertising agency 4ORCE announced that it has launched websites for two efforts focused on mental health and depression awareness: The Walk and The Walk To Washington. 4ORCE redesigned The Walk site and created The Walk To Washington site from scratch, providing these digital marketing services pro-bono, as part of its community outreach program.
Both sites promote depression awareness, with The Walk To Washington being an event under the parent company, The Walk. The event features volunteers walking 835 miles, departing August 14 from St. Louis, Mo. on their way to Washington, D.C. to help raise depression awareness. The group is also collecting petition signatures to encourage government officials to provide more assistance to those suffering from depression and mental health diseases.
The Walk To Washington site has already recorded nearly 30,000 unique visitors. And it ranks on the first page of Google and Bing search engine result pages when users search for the terms "depression awareness" and "awareness of depression." Furthermore, 4ORCE established a social media presence for The Walk and The Walk To Washington through Facebook and Twitter.
4ORCE's creative work on The Walk To Washington website has also been recognized and displayed on several online design galleries including: csswow.com, cssbased.com and bestwebgallery.com. The website was also awarded the "Best in Class - Advocacy" by the Interactive Media Awards (IMA).
"With the help of 4ORCE, we have been able to reach so many more people than we thought possible. What's really exciting for us and The Walk is that instead of having to explain our efforts to everyone we meet, we can just direct them to our website. Each site sets the tone and really puts a face on our organizations. There they can read all about us, watch a video and, most importantly, sign the petition," said Steve Curran, President and lead organizer of The Walk To Washington.
Anyone can sign The Walk To Washington petition to help raise depression awareness and advocate change in mental health laws. Signatures are accepted through October 7.
To learn more about these mental health awareness groups, visit walktowashington.org and thewalk.org.
About 4ORCE:
4ORCE is advancing digital engagement and user experience. 4ORCE was founded in 2006 by President/CEO Dan Curran. The St. Louis-based agency bridges the space between today's digital technology and tomorrow's brand engagement. The team uses bold creative solutions and a user-centered design to better connect people, media and branding. Serving a diverse client-base that includes Scottrade, O'Charley's, Hanes and Hardee's, the agency has an impressive portfolio that includes successful creative campaigns and executions through the following media and strategies: event marketing, social media and networking, print, radio, mobile, digital strategy, online video, PR, websites, intelligent user experience (UX), interactive and viral campaigns to name a few. Find 4ORCE online at 4ORCEdigital.com.
# # #