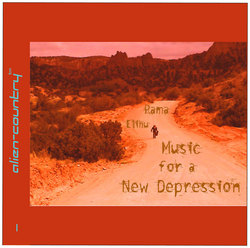 Music for a New Depression
New York, NY (PRWEB) May 27, 2008
Blue-Loves, a new label, under the firefallmedia umbrella, today released "Music for a New Depression," the first in its alien-country series, Six albums are scheduled this year, dedicated to future space. The first is however a biting take on earth politics, as practiced in the U.S.
The back cover reads, "Blues Magic for a New Depression, songs of a native oracle, slices the political scene to shreds, then wands it back together. Read in reggae and sung in gentle and caustic tones in the manner of old time blues, the singer makes us realize that the real constituency, the only one that matters, is the land itself. Recorded on a mountain top in New Mexico, the songs are arrows to the heart of Washington, meant to light the sky as they travel there, by taking to task the national political scene and the current politics of language. Elihu (the poet-songwriter) looks down from the clouds at his herd rushing toward a cliff, to lyricize the thunder. His warnings strike like lightning. Rama Kim (the singer/guitarist), a child of flower children, who toured cross-country before he was ten, finds his voice in the harmonic tones. 'I grew up on the blues, reggae and jazz. The music came to me in an instant. My goal is to give the expression character.' An original, he succeeds brilliantly."
Recorded in Rama's Ojo Sarco studio, the release consists of two parts, Rama singing, followed by Elihu reading the lyrics as he first wrote them. Robinson Joyce, Blue-Loves' president, enthused, "Elihu's poetry is provocative and right on the mark. He calls 'Keddedy - a hen house chicken' and refers to the coal dust aglow in the nose of another political animal. This album is an untouched recording, done in three days, with one tube microphone and a portable deck: simple, acoustic blues with a complexity and brilliance of language rare in the music world. The album ends with rhythmic advice to the next American president."
Good music, but sure to be controversial as well, this 36 minute recording reflects the popular contempt for politics, openly, honestly, and entertainingly. The CD is currently available for $16, priority shipping included anywhere in the continental U.S., directly from the Blue-Loves.com website. The album will also be available from Amazon. MP3 downloads will be available from TheListeningZone.com at $7 per download. For further information, go to http://www.blue-loves.com
###